PopSocket Universal 2-in-1 Stand & Grip - Black
Super-sleek, compact & convenient, this black expanding stick-on accessory for all smartphones props up your device so you don't have to. Simply stick the PopSocket to the back of your phone, pull outward & watch your favourite shows at the perfect angle
Produits fréquemment achetés ensemble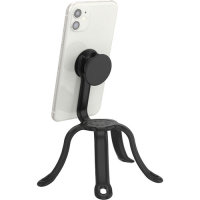 11,99€
Prix d'origine
23,49€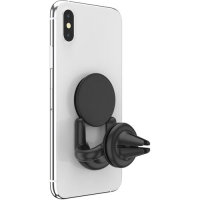 14,99€
Prix d'origine
18,49€
Key Features
2 essential accessories in 1 innovative, unique and super-functional package
Ingenious expanding and contracting design
Stand function for viewing media
Provides extra grip
Adds virtually no extra bulk
Compatible with many cases
Descriptif du produit
Once you've tried a PopSocket, you'll wonder why you never bothered with one before due to the extra added ease they add to your day. This sleek, black PopSocket not only props up your device, providing the perfect viewing angle for your shows but it also acts as another way to grip onto your phone, rather than having to stretch your hand across the whole device.
2 essential accessories in 1 innovative, unique and super-functional package
With PopSockets, you no longer need to choose between a desk stand and a grip for your device. PopSockets' grippy adhesive, robust construction and pop-and-collapse mechanism ensure that you'll always have an easy way to view media, check recipes, video call friends and more, as well as a handy way to take the pressure off your hands while you're holding your phone.
Ingenious expanding and contracting design
There really is nothing like PopSockets. All you have to do to take advantage of this wonderful item is attach it to the back of your phone, then pull outwards. Hey presto - your very own stand and grip. When you're done using PopSockets, simply press inwards and your mount contracts to maximise storage space and minimise bulk.
Stand function for viewing media
Working similar to many phone cases with a kickstand function - but entirely more versatile - PopSockets can be used in landscape or portrait orientation as a media viewing stand, perfect for those extended streaming service marathons. This is also ideal for keeping recipes close to hand while cooking, for example, or simply for keeping your device stable while typing.
Provides extra grip
PopSockets can also be used as a grip, taking the pressure off your hands while texting or talking. Now you don't need to worry about dropping your device while you're in the middle of an important conversation - the super-strong adhesive will keep your phone safe no matter what.
Adds virtually no extra bulk
Despite all this functionality, PopSockets barely take up any space on your device. Thanks to the contracting design, too, you can simply "fold away" your grip, ready to be expanded for next time you need it.
Compatible with many cases
The washable adhesive which PopSockets use is compatible with the majority of cases (some waterproof cases or silicone cases may not be compatible). Leave your protective case on your device and still enjoy all the benefits brought by PopSockets.
Détails supplémentaires
| | |
| --- | --- |
| Référence N° | 800470 |
| UPC | 0842978135083 |
| Réf. Mobile Fun | 84627 |
| Couleur | Noir |
| Brand Name | PopSockets |
Livraisons & Retours
Envoi Économique par La Poste pour la France Métropolitaine: 2,99 euros
Livraison comprise entre 4 et 8 jours ouvrés (du lundi au vendredi, hors weekends et jours fériés)
Envoi Économique par La Poste pour la Belgique : 4,50 euros
Livraison comprise entre 4 et 8 jours ouvrés (du lundi au vendredi, hors weekends et jours fériés)
Envoi Suivi par La Poste pour la France Métropolitaine: 10,99 euros
Livraison comprise entre 3 et 4 jours ouvrés (du lundi au vendredi, hors weekends et jours fériés)
Envoi Express 24h minimum par DHL : 24,99 euros
Livraison sous

24-48h

(du lundi au vendredi, hors weekend et jours fériés)

Une commande validée le vendredi sera livrée à partir du lundi suivant

Envoi suivi, r

emis contre signature

Service de livraison le plus rapide,

chez vous en 24 heures minimum

pour un tarif attractif
Vous pouvez suivre votre colis sur le site DHL ou par téléphone au 08 25 10 00 80 (0,15€ TTC / min.) en vous munissant de votre numéro de bordereau communiqué par email.


Note:
Les heures d'arrivée estimées sont tirées directement des informations fournies par nos coursiers. Ce ne sont que des estimations, MobileFun n'est pas responsable si cela varie. Tous les produits sont expédiés depuis notre entrepôt au Royaume-Uni. Articles manquants ou retardés : Veuillez noter que nous devrons attendre 20 jours ouvrables avant de pouvoir retrouver, remplacer ou rembourser les articles perdus. Le service de courrier ne sera pas disponible pour les commandes de grande valeur, la méthode d'expédition express sera appliquée.
Livraison sans contact
Afin de livrer vos commandes en toute sécurité, plusieurs de nos partenaires ont mis en place un service minimal de livraison avec ou sans contact. Ce faisant, nos clients et nos partenaires de livraison sont protégés. Cliquez sur ici pour voir quels coursiers peuvent offrir la livraison sans contact.
Dois-je payer la TVA ou les droits d'importation?
Si votre commande est moins de 150 € hors frais de port, la TVA est déjà incluse dans le prix que vous payez à la caisse. Cela signifie qu'il n'y aura pas de TVA supplémentaire due pour le paiement lorsque votre commande vous sera livrée. Pour plus d'informations, veuillez consulter les informations d'expédition complètes.
Refus de payer les frais - Politique de retour
Si vous refusez de payer les droits d'importation ou la TVA prélevés sur votre envoi, cela peut entraîner le retour de l'envoi à Mobile Fun. Dans ce cas, tous les frais de retour associés plus des frais administratifs minimum de 5,00 £ (ou une devise équivalente au taux de change actuel) seront imputés au montant de votre remboursement final.