PDP LVL40 Nintendo Switch LVL40 Wired Headset - Blue/Red
This officially licensed headset with breathable ear cushions is the perfect Nintendo Switch gaming accessory. The stunning, lightweight design offers long-lasting comfort & high-quality, 40mm audio drivers for the perfect, immersive gaming experience.
Key Features
Licensed Nintendo product
Wired headset - no need to charge!
3.5mm Audio jack
Flip-to-mute feature
Breathable, lightweight material
Bi-directional, noise-cancelling mic
Hear every command
Wide range of compatibility
Descriptif du produit
Communicate with your team using the new, stunning LVL headset. The lightweight and comfortable wired LVL40 headset offers high sound quality for both long and short gaming sessions thanks to its powerful 40mm audio drivers.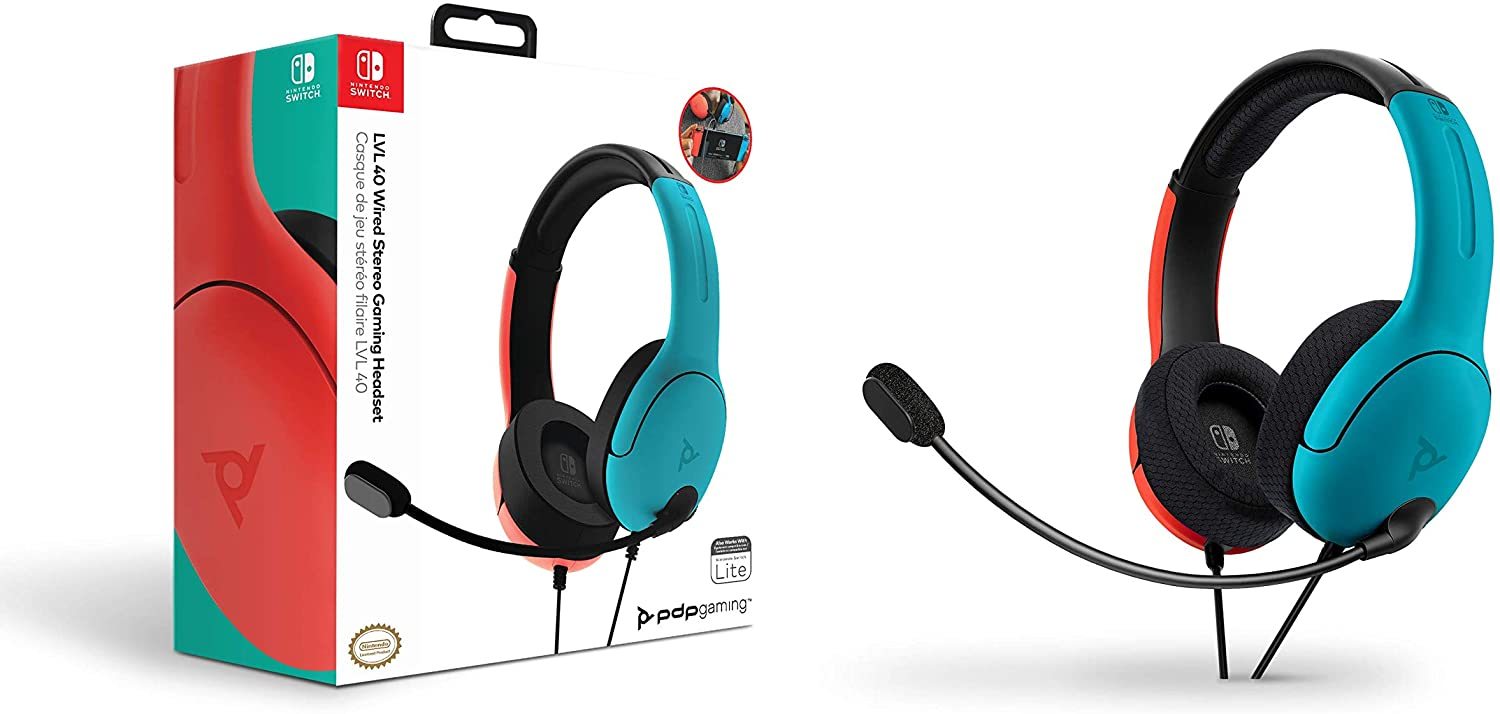 This Officially Licensed by Nintendo headset has been made to perfectly fit the design on your Nintendo Switch, hence the sleek blue and red design. Look great whilst you game with this wired headset from PDP.
3.5mm audio jack
With the 3.5mm connection standardised across the majority of devices, including the Nintendo Switch, meaning that no matter where you are and what you're connecting, you can be sure that this headset will come in handy.
As it is wired, you don't need to worry about the headset ever dying mid game - allowing you to focus on what matters.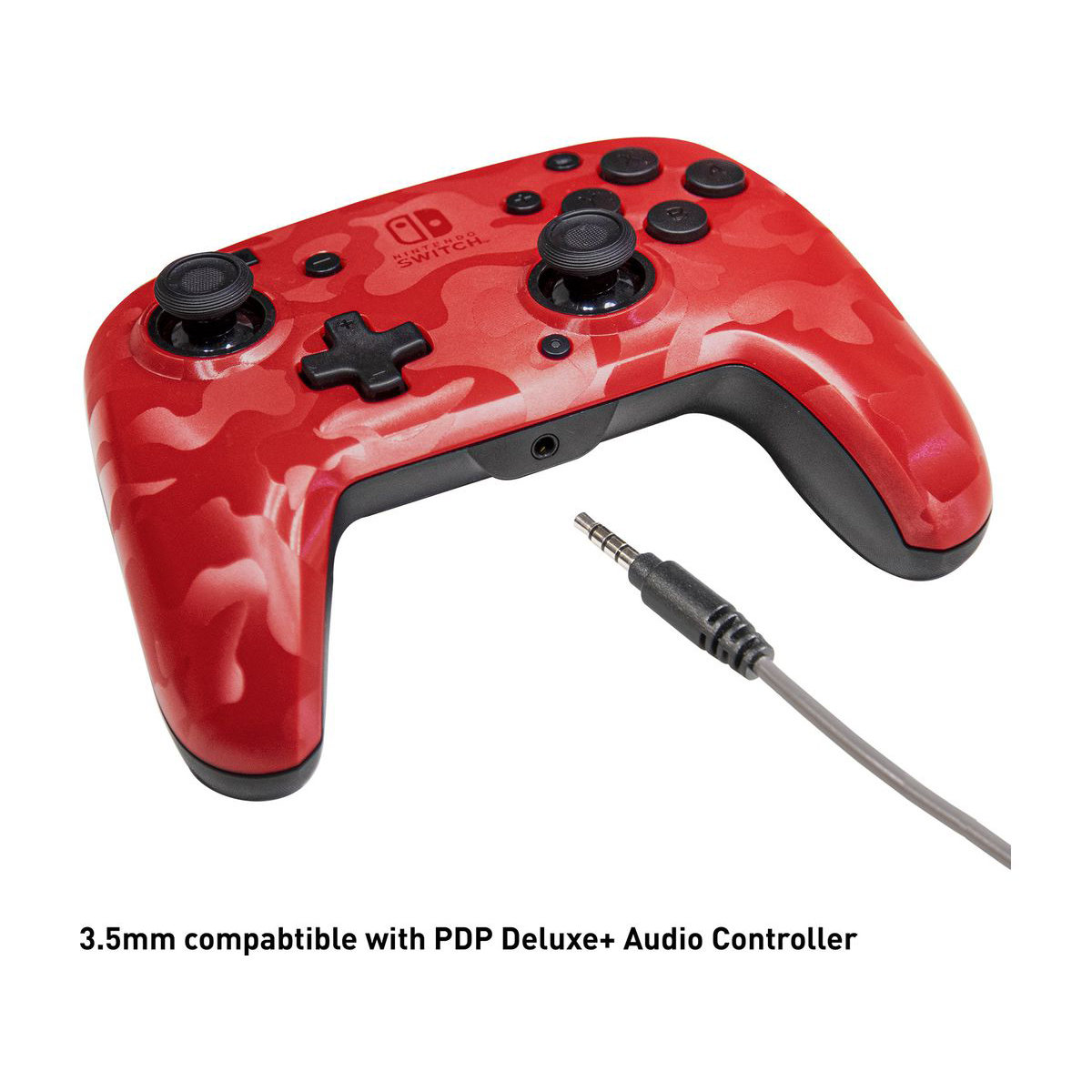 Flip-to-mute feature
When the microphone boom is down (i.e., horizontal, at mouth level), the microphone is active. Whilst when the microphone boom is up (i.e., vertical), the microphone is muted. This allows you to quickly turn on the mic or turn it off, depending on what you need. If someone comes into the room, you can simply push the mic boom up to mute and have a private conversation. Once they've gone, push it back down to mouth level to carry on with your conversation with friends.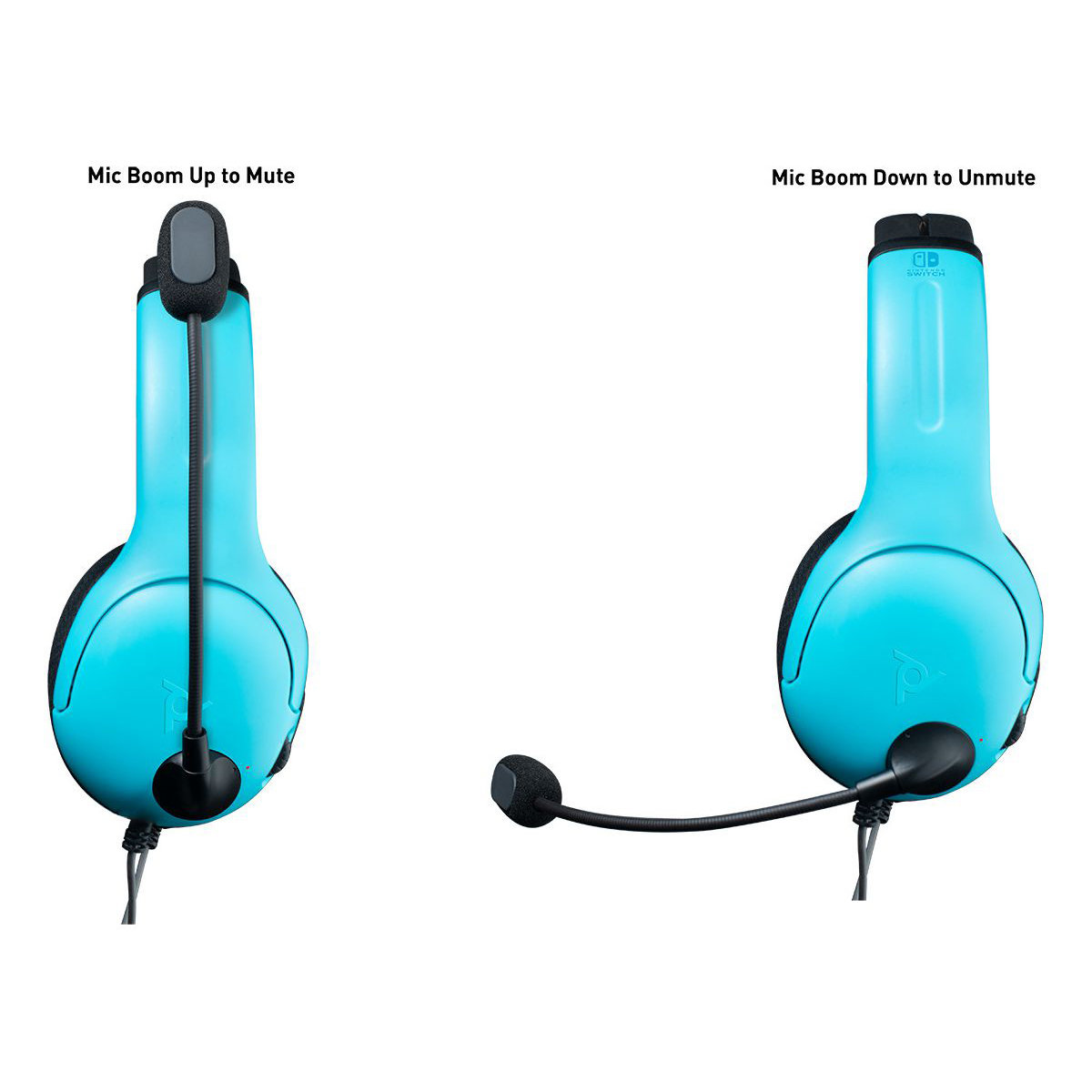 Breathable, lightweight material
The lightweight build of the LVL40 Wired Stereo Headset offers long-lasting comfort whether you're spending the day in co-op missions, or just playing a quick match.
The breathable ear cushions help you stay cool and prevent fatigue. This is a really useful feature, as if your ears get too hot, it may make focussing on the game harder!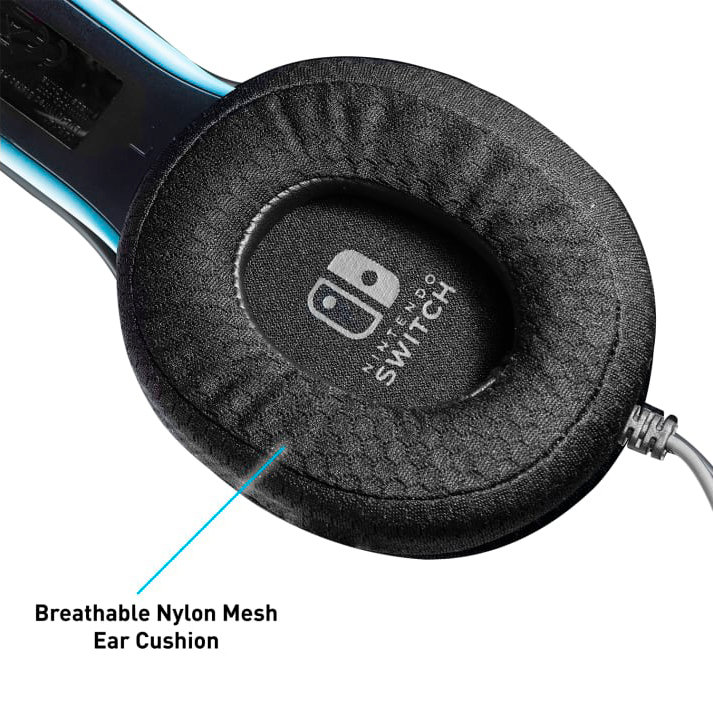 Bi-directional, noise-cancelling mic
A bidirectional mic has a boosted proximity effect which makes this noise cancelling effect far more pronounced. This is because it only picks up audio from the front and the back in a hyper-localized space - between 2-8 inches away, rejecting sounds that come from outside this very narrow field. This allows you to block out the noise around you and focus in on your game - providing the best gaming experience possible.
Hear every command
Hear your enemies before you see them with the two powerful 40mm audio drivers. This offers more sound per mm at the same volume compared to 50mm, making it a phenomenal audio experience. Never again miss your friend telling you to attack and losing the game due to not clearly hearing what they say.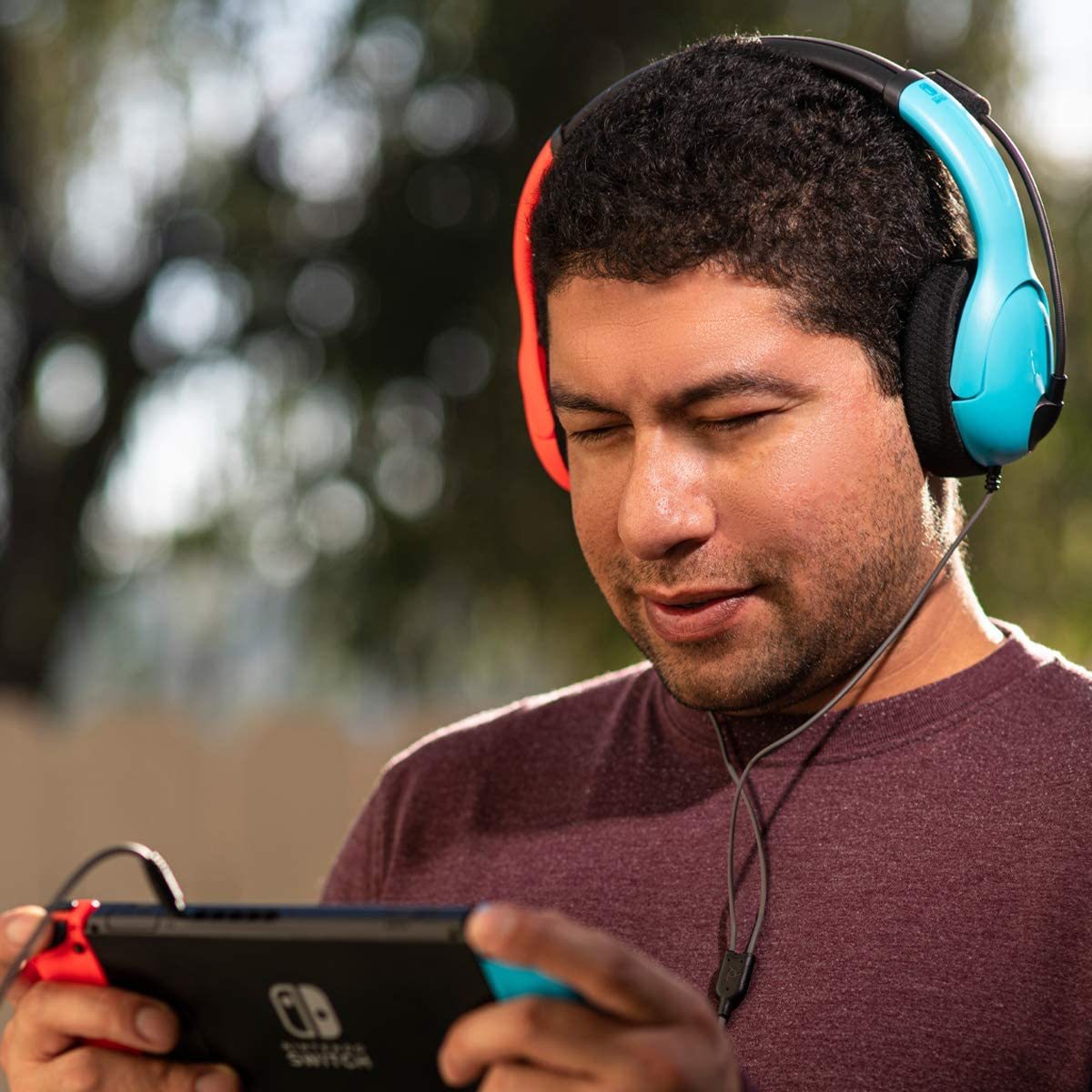 Wide range of compatibility
Whilst this is an Official Nintendo product, it can also work with the PlayStation, the Xbox and all devices with 3.5mm audio jack ports.

Détails supplémentaires
| | |
| --- | --- |
| Référence N° | 500-162-EU-BLRD |
| UPC | 0708056066826 |
| Réf. Mobile Fun | 84767 |
| Couleur | Bleu, Rouge |
| Brand Name | PDP |
Videos
Livraisons & Retours
Envoi Économique par La Poste pour la France Métropolitaine: 2,99 euros
Livraison comprise entre 4 et 8 jours ouvrés (du lundi au vendredi, hors weekends et jours fériés)
Envoi Économique par La Poste pour la Belgique : 4,50 euros
Livraison comprise entre 4 et 8 jours ouvrés (du lundi au vendredi, hors weekends et jours fériés)
Envoi Suivi par La Poste pour la France Métropolitaine: 10,99 euros
Livraison comprise entre 3 et 4 jours ouvrés (du lundi au vendredi, hors weekends et jours fériés)
Envoi Express 24h minimum par DHL : 19,99 euros
Livraison sous

24-48h

(du lundi au vendredi, hors weekend et jours fériés)

Une commande validée le vendredi sera livrée à partir du lundi suivant

Envoi suivi, r

emis contre signature

Service de livraison le plus rapide,

chez vous en 24 heures minimum

pour un tarif attractif
Vous pouvez suivre votre colis sur le site DHL ou par téléphone au 08 25 10 00 80 (0,15€ TTC / min.) en vous munissant de votre numéro de bordereau communiqué par email.
Livraison sans contact
Afin de livrer vos commandes en toute sécurité, plusieurs de nos partenaires ont mis en place un service minimal de livraison avec ou sans contact. Ce faisant, nos clients et nos partenaires de livraison sont protégés. Cliquez sur ici pour voir quels coursiers peuvent offrir la livraison sans contact.
Dois-je payer la TVA ou les droits d'importation?
Si votre commande est moins de 150 € hors frais de port, la TVA est déjà incluse dans le prix que vous payez à la caisse. Cela signifie qu'il n'y aura pas de TVA supplémentaire due pour le paiement lorsque votre commande vous sera livrée. Pour plus d'informations, veuillez consulter les informations d'expédition complètes.
Refus de payer les frais - Politique de retour
Si vous refusez de payer les droits d'importation ou la TVA prélevés sur votre envoi, cela peut entraîner le retour de l'envoi à Mobile Fun. Dans ce cas, tous les frais de retour associés plus des frais administratifs minimum de 5,00 £ (ou une devise équivalente au taux de change actuel) seront imputés au montant de votre remboursement final.