Olixar Black Waterproof Waist Pouch Bag
Need something to carry your belongings without worrying about water damage but don't want to hold a bag? Well, this Olixar Waterproof Waist Pouch delivers! Designed with adjustable straps for comfortable usage, this Olixar bag is super convenient.
Produits fréquemment achetés ensemble
Key Features
100% waterproof dry bag
Secure closure
Adjustable straps
IPX6 waterproof rating
Wide usability
Descriptif du produit

100% waterproof dry bag
Keep your equipment protected, whatever the conditions are! From an extreme kayak trip, whitewater rain or plunged into whitewater on the beach, your equipment is protected and safe. Due to the fact that this Olixar Pouch is made out of 100% PVC materials, you can rest assured that it is fully waterproof, resistant to rough outdoor conditions, and will keep its shape easily.
Secure closure
Be assured your belongings are secure, simply seal the bag via the ziplock strips at the top of it then use the velcro strip to secure it to the rest of the bag.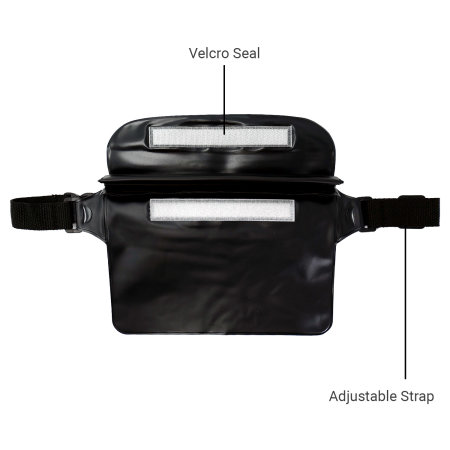 Adjustable straps
This Olixar Waterproof Pouch features adjustable reinforced straps so you can adjust the pouch around your waist to your desired fit requirements.
IPX6 waterproof rating
This Olixar Pouch was designed with full functionality in mind. The bag has an IPX6 waterproof rating, meaning that it is extremely waterproof, impenetrable by weather, waterfalls, and even a non-sustained total soaking.
Wide usability
Due to the adjustable carrying straps, you can wear the waterproof pouch around your waist, neck or shoulder in water parks, pools, beaches, kayaking, jogging, sauna, white water rafting, dive gear, island hopping, skiing, snowboarding, hiking and all of your life's adventures which involves water, sand, dirt, snow and dust.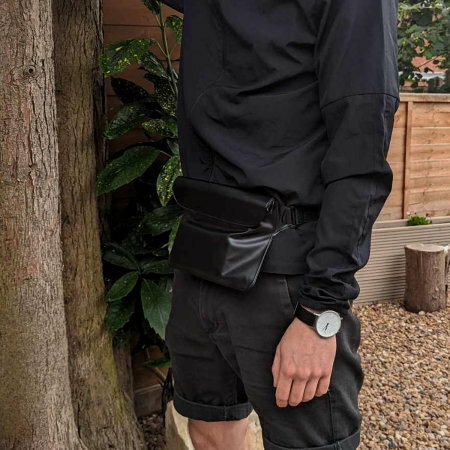 Specifications:
Minimum waist size: 30 inches (76cm)
Max waist size: 40 inches (103cm)
Contenu
1 x Olixar Black Waterproof Waist Pouch Bag
Détails supplémentaires
| | |
| --- | --- |
| Référence N° | OLX-95330 |
| UPC | 5056610832765 |
| Réf. Mobile Fun | 95330 |
| Couleur | Noir |
| Brand Name | Olixar |
Livraisons & Retours
Envoi Économique par La Poste pour la France Métropolitaine: 2,99 euros
Livraison comprise entre 4 et 8 jours ouvrés (du lundi au vendredi, hors weekends et jours fériés)
Envoi Économique par La Poste pour la Belgique : 4,50 euros
Livraison comprise entre 4 et 8 jours ouvrés (du lundi au vendredi, hors weekends et jours fériés)
Envoi Suivi par La Poste pour la France Métropolitaine: 10,99 euros
Livraison comprise entre 3 et 4 jours ouvrés (du lundi au vendredi, hors weekends et jours fériés)
Envoi Express 24h minimum par DHL : 24,99 euros
Livraison sous

24-48h

(du lundi au vendredi, hors weekend et jours fériés)

Une commande validée le vendredi sera livrée à partir du lundi suivant

Envoi suivi, r

emis contre signature

Service de livraison le plus rapide,

chez vous en 24 heures minimum

pour un tarif attractif
Vous pouvez suivre votre colis sur le site DHL ou par téléphone au 08 25 10 00 80 (0,15€ TTC / min.) en vous munissant de votre numéro de bordereau communiqué par email.


Note:
Les heures d'arrivée estimées sont tirées directement des informations fournies par nos coursiers. Ce ne sont que des estimations, MobileFun n'est pas responsable si cela varie. Tous les produits sont expédiés depuis notre entrepôt au Royaume-Uni. Articles manquants ou retardés : Veuillez noter que nous devrons attendre 20 jours ouvrables avant de pouvoir retrouver, remplacer ou rembourser les articles perdus. Le service de courrier ne sera pas disponible pour les commandes de grande valeur, la méthode d'expédition express sera appliquée.
Livraison sans contact
Afin de livrer vos commandes en toute sécurité, plusieurs de nos partenaires ont mis en place un service minimal de livraison avec ou sans contact. Ce faisant, nos clients et nos partenaires de livraison sont protégés. Cliquez sur ici pour voir quels coursiers peuvent offrir la livraison sans contact.
Dois-je payer la TVA ou les droits d'importation?
Si votre commande est moins de 150 € hors frais de port, la TVA est déjà incluse dans le prix que vous payez à la caisse. Cela signifie qu'il n'y aura pas de TVA supplémentaire due pour le paiement lorsque votre commande vous sera livrée. Pour plus d'informations, veuillez consulter les informations d'expédition complètes.
Refus de payer les frais - Politique de retour
Si vous refusez de payer les droits d'importation ou la TVA prélevés sur votre envoi, cela peut entraîner le retour de l'envoi à Mobile Fun. Dans ce cas, tous les frais de retour associés plus des frais administratifs minimum de 5,00 £ (ou une devise équivalente au taux de change actuel) seront imputés au montant de votre remboursement final.