Olixar Basics 18W USB-A Wall Charger - Black
The Olixar Basics 18W USB-A Wall Charger is the ideal accessory for your charging needs! This sleek charger was designed to provide reliable and efficient charging for all your USB-A compatible devices. Olixar Basics, tech essentials, within reach.
Produits fréquemment achetés ensemble
Key Features
18W charging power
Sleek design
More power, quicker
Outstanding compatibility
Descriptif du produit

Upgrade your charging game with the Olixar Basics 18W USB-A PD Wall Charger and experience reliable, safe, and convenient charging for your USB-C devices. Get yours today and never run out of power again!
18W charging power
With its 18W output, this Olixar Basics wall charger delivers fast charging speeds, allowing you to quickly charge your devices and get back to using them without any delays. Whether you need to charge your smartphone, tablet, or other USB-A compatible devices, this charger has got you covered. It also supports the official charging standards of Apple MagSafe wireless chargers, allowing you to reach the full 15W speeds when charging a compatible iPhone.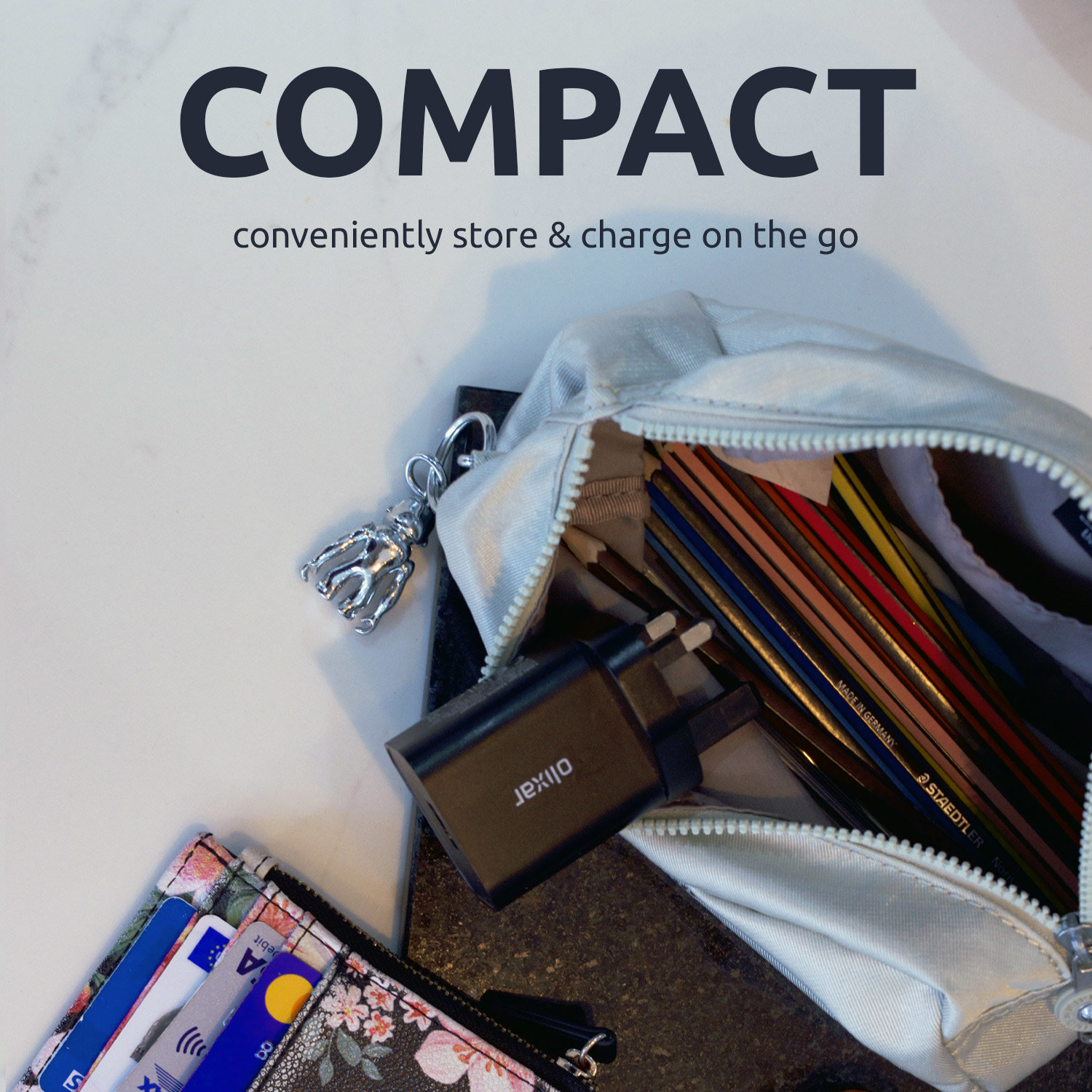 Sleek design
The Olixar Basics 18W QC 3.0 wall charger features a stylish and compact design, making it a convenient travel companion that can be easily stowed away in your bag. Additionally, the charger's small size enables it to fit snugly into tight spaces, providing you with optimal access to plugs and sockets.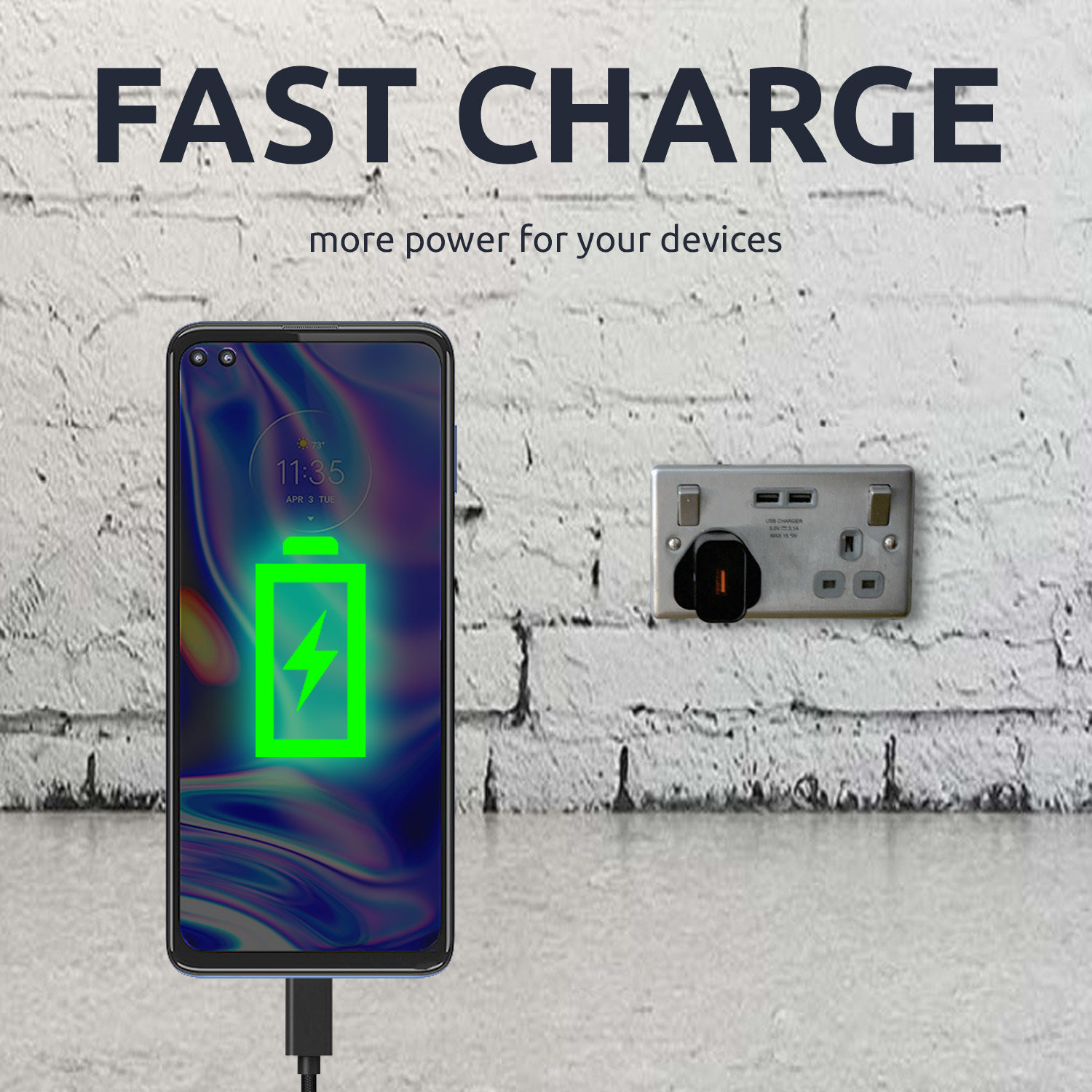 More power, quicker
The Olixar Basics USB-A Wall Charger blends convenience and a compact design seamlessly. With its fast QC charging technology and lightweight build, it's the ideal portable charger. Its sleek black colourway adds to its appeal, and you can charge your USB-A compatible devices quickly and conveniently. The charger packs an 18W charging punch and uses rapid 3.0 charging technology.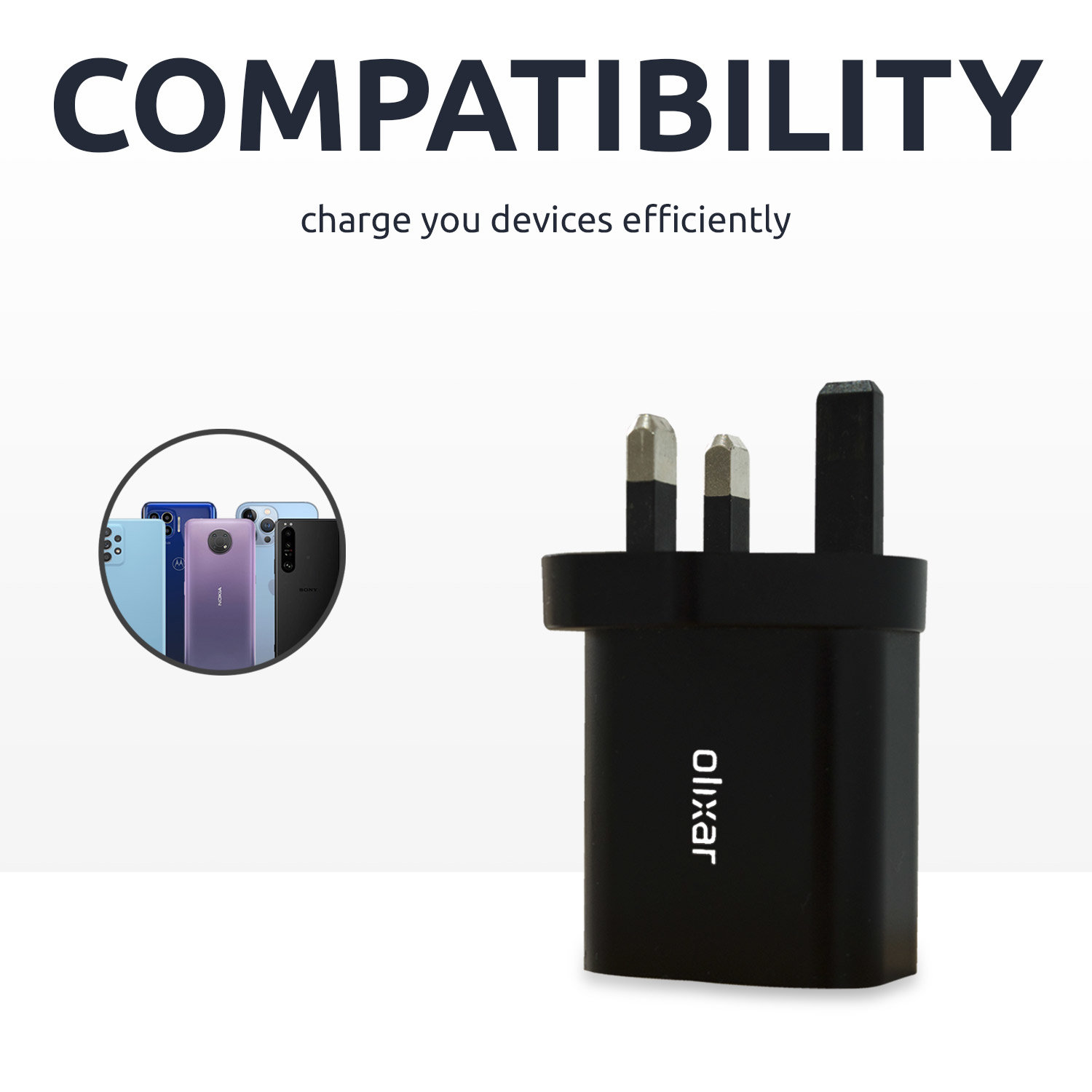 Outstanding compatibility
The Olixar Basics 18W mains charger is compatible with all devices that charge through USB-A cables, including smartphones, tablets and smartwatches. If you have an iPhone, you can also take advantage of the fast charging feature by using a compatible USB-A to Lightning cable. In addition, the Olixar Basics 18W wall charger supports fast charging for a range of other smartphones, such as Samsung, Google, Huawei, and Xiaomi.
Détails supplémentaires
| | |
| --- | --- |
| Référence N° | OLX-82626 |
| UPC | 5056208151582 |
| Réf. Mobile Fun | 82626 |
| Couleur | Noir |
| Brand Name | Olixar Basics |
Livraisons & Retours
Envoi Économique par La Poste pour la France Métropolitaine: 2,99 euros
Livraison comprise entre 4 et 8 jours ouvrés (du lundi au vendredi, hors weekends et jours fériés)
Envoi Économique par La Poste pour la Belgique : 4,50 euros
Livraison comprise entre 4 et 8 jours ouvrés (du lundi au vendredi, hors weekends et jours fériés)
Envoi Suivi par La Poste pour la France Métropolitaine: 10,99 euros
Livraison comprise entre 3 et 4 jours ouvrés (du lundi au vendredi, hors weekends et jours fériés)
Envoi Express 24h minimum par DHL : 24,99 euros
Livraison sous

24-48h

(du lundi au vendredi, hors weekend et jours fériés)

Une commande validée le vendredi sera livrée à partir du lundi suivant

Envoi suivi, r

emis contre signature

Service de livraison le plus rapide,

chez vous en 24 heures minimum

pour un tarif attractif
Vous pouvez suivre votre colis sur le site DHL ou par téléphone au 08 25 10 00 80 (0,15€ TTC / min.) en vous munissant de votre numéro de bordereau communiqué par email.


Note:
Les heures d'arrivée estimées sont tirées directement des informations fournies par nos coursiers. Ce ne sont que des estimations, MobileFun n'est pas responsable si cela varie. Tous les produits sont expédiés depuis notre entrepôt au Royaume-Uni. Articles manquants ou retardés : Veuillez noter que nous devrons attendre 20 jours ouvrables avant de pouvoir retrouver, remplacer ou rembourser les articles perdus. Le service de courrier ne sera pas disponible pour les commandes de grande valeur, la méthode d'expédition express sera appliquée.
Livraison sans contact
Afin de livrer vos commandes en toute sécurité, plusieurs de nos partenaires ont mis en place un service minimal de livraison avec ou sans contact. Ce faisant, nos clients et nos partenaires de livraison sont protégés. Cliquez sur ici pour voir quels coursiers peuvent offrir la livraison sans contact.
Dois-je payer la TVA ou les droits d'importation?
Si votre commande est moins de 150 € hors frais de port, la TVA est déjà incluse dans le prix que vous payez à la caisse. Cela signifie qu'il n'y aura pas de TVA supplémentaire due pour le paiement lorsque votre commande vous sera livrée. Pour plus d'informations, veuillez consulter les informations d'expédition complètes.
Refus de payer les frais - Politique de retour
Si vous refusez de payer les droits d'importation ou la TVA prélevés sur votre envoi, cela peut entraîner le retour de l'envoi à Mobile Fun. Dans ce cas, tous les frais de retour associés plus des frais administratifs minimum de 5,00 £ (ou une devise équivalente au taux de change actuel) seront imputés au montant de votre remboursement final.