Olixar 100W 1.5m Braided USB-C To C Fast Charging Cable - Black
With this Black Olixar 100W USB-C 1.5m cable, charge your USB type C devices at impressive speeds. What's more, quickly sync & transfer data up to 480 Mbps! Features a durable braided design to prevent breakage and keeps your cable tangle free.
Produits fréquemment achetés ensemble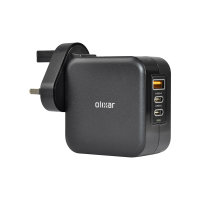 28,49€
Prix d'origine
34,49€
Key Features
Charges a range of devices
USB-C creates faster charging
1.5m length
Charge and sync
Designed specifically for 100W power
Adapts to device
Descriptif du produit

With the 100W USB-C to C charging cable, you can charge your device quickly - allowing you to get that submission out and go out with your friends faster, secure in the knowledge that your phone will have a charge for your next adventure.
Charges A Range Of Devices
A great benefit of the USB-C to C cable is that it can charge a range of devices. This includes many Android devices, the iPad Air 4, iPad Pro and post-2017 Macbooks. This means that you can just carry one cable around with you to charge numerous of your devices.
USB-C For Faster Charging
Combining the 100W charging cable with a USB-C charger, your phone can charge up to 5x faster - meaning you don't need to keep your phone on charge overnight and damage the battery. Instead, you can put it on when needed, get on with something else, and take it out less than 2 hours later. This time extra power means less responsibility - what more could you want?
1.5m Length
Imagine what you can do with a 1.5m braided, durable cable that you couldn't before? You can toss and turn in bed, whilst keeping your iPad, Android or iPhone on charge. Or, if you're at a hotel and they don't have plugs near your bed, this lead may be able to reach your bed, allowing you to charge your phone comfortably.
Charge & Sync
Not only can this device be used to charge your Macbook, it can also be used to charge and sync your device to your laptop. This helps provide an extra level of security for your phone, as your photos and videos will also be on your laptop - so if anything happens, you've always got a backup.
Designed Specifically For 100W Power
USB-C circuit boards are specially designed to carry this increased wattage without being damaged or overheating, for enhanced safety for users and their devices.
Adapts to device
Whether you're charging a Macbook or an Android device, the USB-C technology will adapt to the device providing great versatility and allowing you to use the cable on many of your devices. So, if your device is an 18W device, it will adapt to provide 18W, if your new iPad is 27W then it will provide 27W or if your Macbook is 100W, it will give 100W of power. This ensures fast charging, without delivering too much power which could damage the circuitry.
*Note: This is just a charging cable - it still needs inputting into a USB-C charger*
Détails supplémentaires
| | |
| --- | --- |
| Référence N° | OLX-86746 |
| UPC | 5056208178619 |
| Réf. Mobile Fun | 86746 |
| Couleur | Noir |
| Brand Name | Olixar |
Livraisons & Retours
Envoi Économique par La Poste pour la France Métropolitaine: 2,99 euros
Livraison comprise entre 4 et 8 jours ouvrés (du lundi au vendredi, hors weekends et jours fériés)
Envoi Économique par La Poste pour la Belgique : 4,50 euros
Livraison comprise entre 4 et 8 jours ouvrés (du lundi au vendredi, hors weekends et jours fériés)
Envoi Suivi par La Poste pour la France Métropolitaine: 10,99 euros
Livraison comprise entre 3 et 4 jours ouvrés (du lundi au vendredi, hors weekends et jours fériés)
Envoi Express 24h minimum par DHL : 24,99 euros
Livraison sous

24-48h

(du lundi au vendredi, hors weekend et jours fériés)

Une commande validée le vendredi sera livrée à partir du lundi suivant

Envoi suivi, r

emis contre signature

Service de livraison le plus rapide,

chez vous en 24 heures minimum

pour un tarif attractif
Vous pouvez suivre votre colis sur le site DHL ou par téléphone au 08 25 10 00 80 (0,15€ TTC / min.) en vous munissant de votre numéro de bordereau communiqué par email.
Livraison sans contact
Afin de livrer vos commandes en toute sécurité, plusieurs de nos partenaires ont mis en place un service minimal de livraison avec ou sans contact. Ce faisant, nos clients et nos partenaires de livraison sont protégés. Cliquez sur ici pour voir quels coursiers peuvent offrir la livraison sans contact.
Dois-je payer la TVA ou les droits d'importation?
Si votre commande est moins de 150 € hors frais de port, la TVA est déjà incluse dans le prix que vous payez à la caisse. Cela signifie qu'il n'y aura pas de TVA supplémentaire due pour le paiement lorsque votre commande vous sera livrée. Pour plus d'informations, veuillez consulter les informations d'expédition complètes.
Refus de payer les frais - Politique de retour
Si vous refusez de payer les droits d'importation ou la TVA prélevés sur votre envoi, cela peut entraîner le retour de l'envoi à Mobile Fun. Dans ce cas, tous les frais de retour associés plus des frais administratifs minimum de 5,00 £ (ou une devise équivalente au taux de change actuel) seront imputés au montant de votre remboursement final.