Official Samsung Tuned by AKG USB-C Wired Earphones with Microphone - Black
Enjoy crystal clear high quality music with this official pair of Samsung Tuned By AKG In-Ear Headphones in Black. These AKG headphones have a type-c connectivity and is compatible with the Samsung Galaxy range and other USB-C devices.
Produits fréquemment achetés ensemble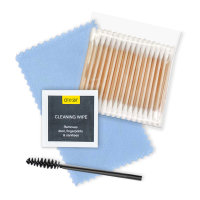 Key Features
Official Samsung Earphones
Expertly Tuned By AKG
In-Ear Design For Improved Comfort and Performance
Integrated In-Line Controls For Music Control
Type - C Connectivity
In-Studio Audio Experience
Balanced Sound
Descriptif du produit

Official Samsung Earphones
These official earphones are the perfect replacement for your original earphones. So if you've lost, broken or just want a back up pair, these official earphones are sure to provide you with excellent performance and quality, which you would come to expect from an official Samsung product.
Expertly Tuned By AKG
With years of expertise within the audio and headphone market, AKG have expertly tuned these in-ear headphones to produce a balanced audio experience with crisp highs, detailed mids and deep bass, which ensures you can listen to your music the way it was intended to be heard.
In-Ear Design For Improved Comfort and Performance
These official Samsung stereo earphones have been designed with comfort and quality in mind. The soft rubber earbuds are ergonomically designed so that they are not only easy to distinguish right from left but that they also provide superior comfort whilst directing the sound straight into your ear so you get the highest possible sound quality with minimum sound loss.
Integrated In-Line Controls For Music Control
Located on the cable are extremely easy to use multi-function controls, that allow you to control your music without having to touch your phone. A simple press of the multi-function controls enables you to play / pause and skip the tracks of your music. You can even handle phone calls hands-free, making for the perfect way to talk when on your daily commute, exercising or just around the house when you need your hands free. Additionally the specific volume controls, make adjusting the volume on the go even easier.
Type - C Connectivity
These headphones have a type-C input ensure they are compatible with all the latest devices, so there is no need to worry about the mess of extra adaptors
In-Studio Audio Experience
Enjoy undistorted studio-quality audio. The Samsung Type-C Headphones are constructed to truly separate left and right signals up to 10 times better than 3.5mm headphones. And the built-in DAC enhances the quality of what you listen to, so your playlist comes to life as the artist intended.
Balance Sound
Made with 2-way speakers, the Samsung Type-C Headphones offer rich audio that comes through clear and balanced. The technology is tuned by AKG, so you get pro-grade sound quality.
Please note: These are genuine Samsung products but they will not be arriving in retail packaging.
Détails supplémentaires
| | |
| --- | --- |
| Référence N° | EO-IC100BBEGUS |
| UPC | 0691201435854 |
| Réf. Mobile Fun | 82585 |
| Couleur | Noir |
| Brand Name | AKG |
Livraisons & Retours
Envoi Économique par La Poste pour la France Métropolitaine: 2,99 euros
Livraison comprise entre 4 et 8 jours ouvrés (du lundi au vendredi, hors weekends et jours fériés)
Envoi Économique par La Poste pour la Belgique : 4,50 euros
Livraison comprise entre 4 et 8 jours ouvrés (du lundi au vendredi, hors weekends et jours fériés)
Envoi Suivi par La Poste pour la France Métropolitaine: 10,99 euros
Livraison comprise entre 3 et 4 jours ouvrés (du lundi au vendredi, hors weekends et jours fériés)
Envoi Express 24h minimum par DHL : 24,99 euros
Livraison sous

24-48h

(du lundi au vendredi, hors weekend et jours fériés)

Une commande validée le vendredi sera livrée à partir du lundi suivant

Envoi suivi, r

emis contre signature

Service de livraison le plus rapide,

chez vous en 24 heures minimum

pour un tarif attractif
Vous pouvez suivre votre colis sur le site DHL ou par téléphone au 08 25 10 00 80 (0,15€ TTC / min.) en vous munissant de votre numéro de bordereau communiqué par email.


Note:
Les heures d'arrivée estimées sont tirées directement des informations fournies par nos coursiers. Ce ne sont que des estimations, MobileFun n'est pas responsable si cela varie. Tous les produits sont expédiés depuis notre entrepôt au Royaume-Uni. Articles manquants ou retardés : Veuillez noter que nous devrons attendre 20 jours ouvrables avant de pouvoir retrouver, remplacer ou rembourser les articles perdus. Le service de courrier ne sera pas disponible pour les commandes de grande valeur, la méthode d'expédition express sera appliquée.
Livraison sans contact
Afin de livrer vos commandes en toute sécurité, plusieurs de nos partenaires ont mis en place un service minimal de livraison avec ou sans contact. Ce faisant, nos clients et nos partenaires de livraison sont protégés. Cliquez sur ici pour voir quels coursiers peuvent offrir la livraison sans contact.
Dois-je payer la TVA ou les droits d'importation?
Si votre commande est moins de 150 € hors frais de port, la TVA est déjà incluse dans le prix que vous payez à la caisse. Cela signifie qu'il n'y aura pas de TVA supplémentaire due pour le paiement lorsque votre commande vous sera livrée. Pour plus d'informations, veuillez consulter les informations d'expédition complètes.
Refus de payer les frais - Politique de retour
Si vous refusez de payer les droits d'importation ou la TVA prélevés sur votre envoi, cela peut entraîner le retour de l'envoi à Mobile Fun. Dans ce cas, tous les frais de retour associés plus des frais administratifs minimum de 5,00 £ (ou une devise équivalente au taux de change actuel) seront imputés au montant de votre remboursement final.