IPega PG-9057 Wireless Gun Remote Controller W/ Smartphone Holder
Take the perfect shot every time with the Phantom Shox Bluetooth gun controller for Android & iOS smartphones. Perfect for shooters & other high-energy action games, this controller features a sturdy holder, 17 control buttons & vibration for authenticity
Key Features
Bluetooth gun controller for Android and iOS
Shock feedback puts you right there in the action
Responsive, tactile buttons
Integrated holder supports smartphones up to 6" in screen size
Comfortable, ergonomic shape for longer gaming sessions
Use as a standalone controller
Compatible with Android and iOS for true versatility
Up to 10 hours battery life
Descriptif du produit
Made from high-quality material, this ergonomically designed game controller with a comfortable hand feel and motor vibration, creates the excitement and thrills of an authentic shootout! With a stand for inbuilt convenience, this compact and portable laser gun with a futuristic design features 17 control buttons, charges in 2 hours and then lasts for up to 10 long, enjoyable gaming hours!
Bluetooth gun controller for Android and iOS
The Phantom Shox from iPega is the perfect companion to your action-packed session of iOS or Android gaming. Blast aliens, zombies or any other monster that dares to get in your way with realistic feedback and an accurate reloading mechanism, as well as a sturdy, high-quality construction.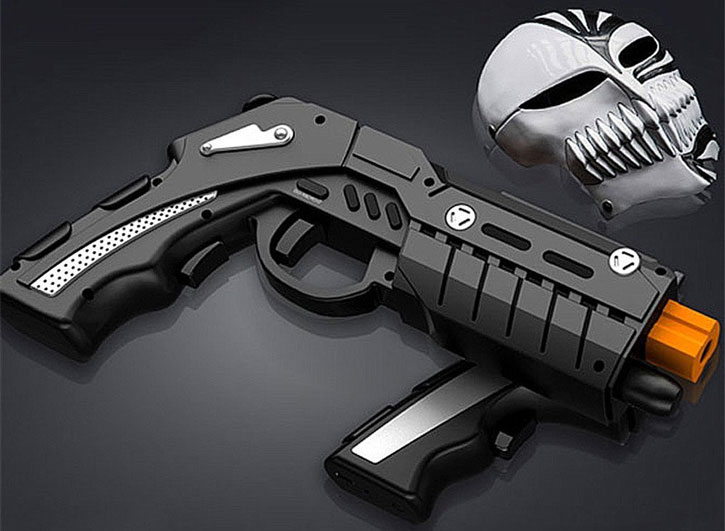 Shock feedback puts you right there in the action
Thanks to built-in motor vibration, you'll feel the attack and release of every shot and the tension of each reload. Immerse yourself in the world of whatever game you're playing and enhance the tactility of your experience.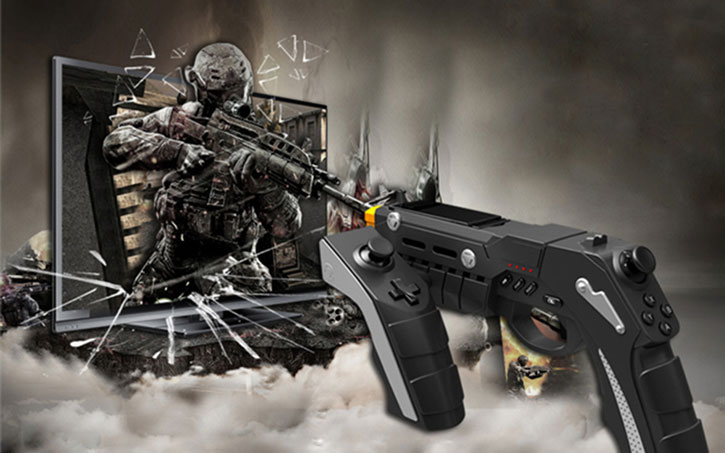 Responsive, tactile buttons
Although the Phantom Shox boasts an unusual shape, it's still a fantastic regular controller, sporting all the features you'd hope a top-notch controller would have. Chief among these is a set of tactile, high-responsiveness buttons and intuitive analogue sticks, meaning that even if your game isn't a shooter, you'll benefit from using the Phantom Shox.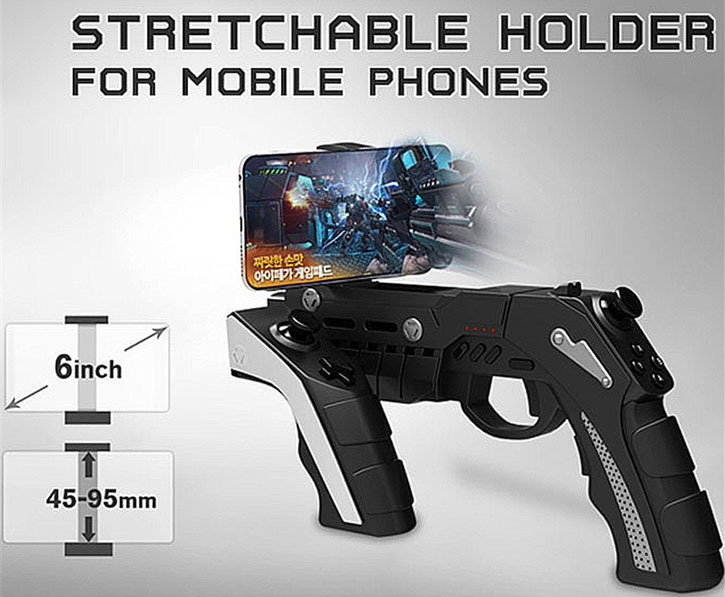 Integrated holder supports smartphones up to 6" in screen size
No matter what your daily driver is for smartphone gaming, you can be sure the iPega Phantom Shox will accommodate you. This is thanks to a robust, flexible holder which will hold your device ultra-securely, but which is more than big enough to hold even larger devices such as the Galaxy Note 8 and iPhone 8 Plus.
Comfortable, ergonomic shape for longer gaming sessions
Using the Phantom Shox will never feel difficult or painful. This is thanks to ergonomic engineering which takes various shapes and sizes of hand into account, leading to a controller that's perfect for everyone, no matter how long your gaming session might be.
Use as a standalone controller
Not gaming on a smartphone? Don't worry. You can still use this controller as a standalone Bluetooth device, so if you're using a tablet or even a laptop, this is still the perfect controller for you.
Compatible with Android and iOS for true versatility
Whether you game on an Android device or an iPhone / iPad, you can take advantage of this controller's ergonomic shape to supercharge your games.
Up to 10 hours battery life
Keep going through even the most epic gaming marathon with up to 10 hours' battery life from a single charge. When the battery does run out, simply recharge using the included Micro USB cable and a power source (laptop, mains charger etc) and you'll be raring to beat your high scores again in no time.
Specifications
Model: PG-9057
Material: ABS + Silicon
Color: Black
Bluetooth: 3.0
Battery: 3.7V 600mAh
Play time: Approx. 10 hours
Working voltage: DC 3.7V
Working current: 25mA-30mA
Product size: Approx. 25 * 14 * 8.5cm / 9.8 * 5.5 * 3.3in
Product weight: Approx. 355g / 12.52oz (Include battery)
Package size: Approx. 30 * 17.5 * 11.5cm / 11.8 * 6.9 * 4.5in
Package weight: Approx. 1109g / 2.4lb
Détails supplémentaires
| | |
| --- | --- |
| Référence N° | PG-9057 |
| UPC | 6987246390574 |
| Réf. Mobile Fun | 85242 |
| Couleur | Noir |
Video
Livraisons & Retours
Envoi Économique par La Poste pour la France Métropolitaine: 2,99 euros
Livraison comprise entre 4 et 8 jours ouvrés (du lundi au vendredi, hors weekends et jours fériés)
Envoi Économique par La Poste pour la Belgique : 4,50 euros
Livraison comprise entre 4 et 8 jours ouvrés (du lundi au vendredi, hors weekends et jours fériés)
Envoi Suivi par La Poste pour la France Métropolitaine: 10,99 euros
Livraison comprise entre 3 et 4 jours ouvrés (du lundi au vendredi, hors weekends et jours fériés)
Envoi Express 24h minimum par DHL : 19,99 euros
Livraison sous

24-48h

(du lundi au vendredi, hors weekend et jours fériés)

Une commande validée le vendredi sera livrée à partir du lundi suivant

Envoi suivi, r

emis contre signature

Service de livraison le plus rapide,

chez vous en 24 heures minimum

pour un tarif attractif
Vous pouvez suivre votre colis sur le site DHL ou par téléphone au 08 25 10 00 80 (0,15€ TTC / min.) en vous munissant de votre numéro de bordereau communiqué par email.
Livraison sans contact
Afin de livrer vos commandes en toute sécurité, plusieurs de nos partenaires ont mis en place un service minimal de livraison avec ou sans contact. Ce faisant, nos clients et nos partenaires de livraison sont protégés. Cliquez sur ici pour voir quels coursiers peuvent offrir la livraison sans contact.
Dois-je payer la TVA ou les droits d'importation?
Si votre commande est moins de 150 € hors frais de port, la TVA est déjà incluse dans le prix que vous payez à la caisse. Cela signifie qu'il n'y aura pas de TVA supplémentaire due pour le paiement lorsque votre commande vous sera livrée. Pour plus d'informations, veuillez consulter les informations d'expédition complètes.
Refus de payer les frais - Politique de retour
Si vous refusez de payer les droits d'importation ou la TVA prélevés sur votre envoi, cela peut entraîner le retour de l'envoi à Mobile Fun. Dans ce cas, tous les frais de retour associés plus des frais administratifs minimum de 5,00 £ (ou une devise équivalente au taux de change actuel) seront imputés au montant de votre remboursement final.