iOttie 10W Easy One Touch 2 In-Car Wireless Charger Dash Mount - For Android and iPhone
Easily & safely wirelessly charge your device with this sleek & compact 10W iOttie One Touch Wireless 2 Dash/ Windscreen Mount. Securely position your phone with the suction cup, whilst knowing your device is charging safely & secure at your chosen angle!
Key Features
Provides in-car wireless charging for your Qi-enabled phone
U.S-patented Easy One Touch mechanism
Adjustable foot with a button
Telescopic, extendable arm
Suction cup to install
Sleek and compact design to match your handset
Descriptif du produit
Want to conveniently read Google Maps and charge your phone at the same time? Well, with this high-quality, sleek, charging mount from iOttie you can do just that! Fit your device to the wireless charger safely and use your device hands-free in the care! Be able to read directions safely whilst knowing your phone is safely charging.


Provides Fast In-Car Wireless-Charging For Your Qi-Enabled Phone
Designed for quick and intuitive fast charging, the iOttie Qi Wireless Charging Car Holder/Charger allows you to safely and quickly charge your Qi-enabled smartphone without the mess of charging cables. The iOttie car holder uses Qi induction technology to charge your phone quickly and easily once it is placed into the holder. For more information about wireless charging click the 'Wireless Charging Guide' banner above.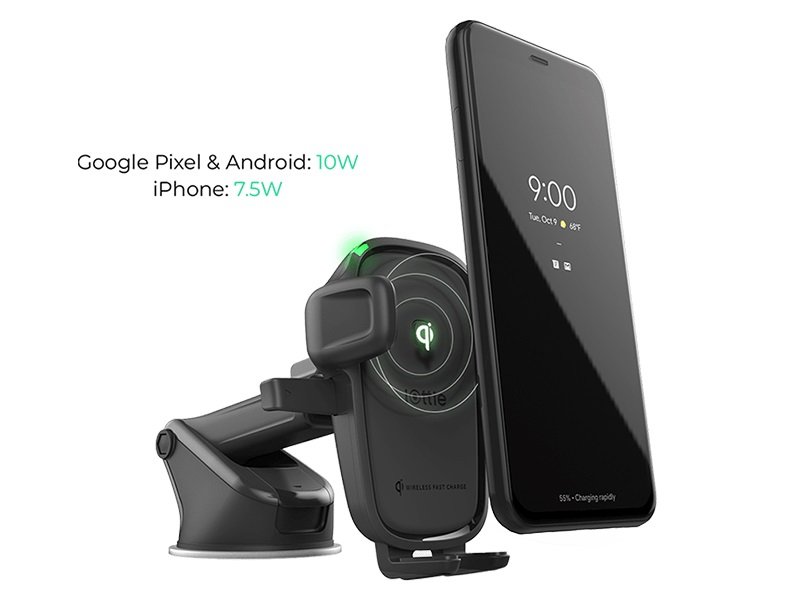 US patented Easy One Touch mechanism
This new Easy One Touch 2 technology has new patented technology, which offers a perfect one-handed motion, allowing you to safely focus on the road ahead - making road trips a breeze!
Adjustable Mount Size - Perfect For Every Device
The lower portion of the iOttie car mount is adjustable - allowing you to align your device for seamless wireless charging. Simply push the bottom (or foot of the mount) for a smaller device, or easily pull it down for a bigger device (up to 6.3") perfect for the pro and max devices of today's market!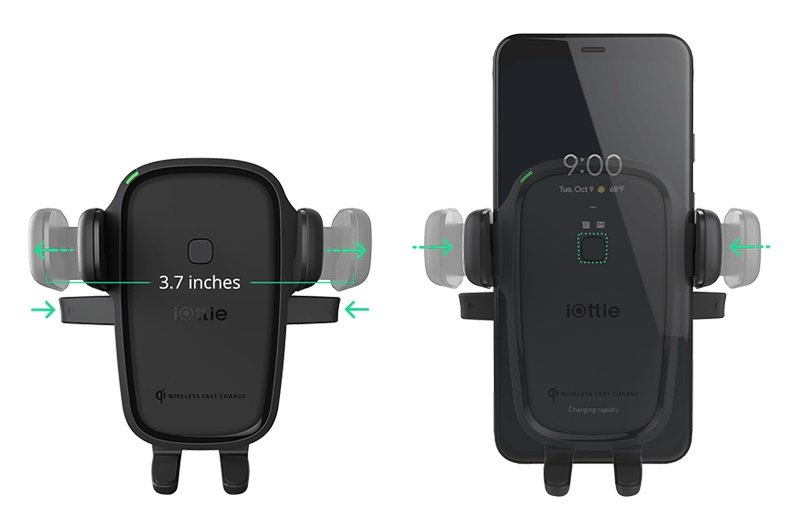 Telescopic Extendable Arm
Unlike other in-car phone mounts, the iOttie Easy One Touch 2 In-Car Wireless Charging Dash Mount features an extendable arm - which offers a 225-degree arc - allowing for a huge variety of optimal viewing angles! Not only that, but it also extends up to 8.3", meaning you can really have your phone in any position which suits you!
Easy To Install Suction cup
This mount attaches to your dashboard or windscreen through a super-strong suction cup. It is just as easy to remove as it is to install - if you've bought a new car, or just need to adjust the positioning, simply rise the suction cup with a small amount of water and lift it from the dash! When you're ready to reinstall the mount simply follow the easy instructions to stick it back to the dash and you're ready to go!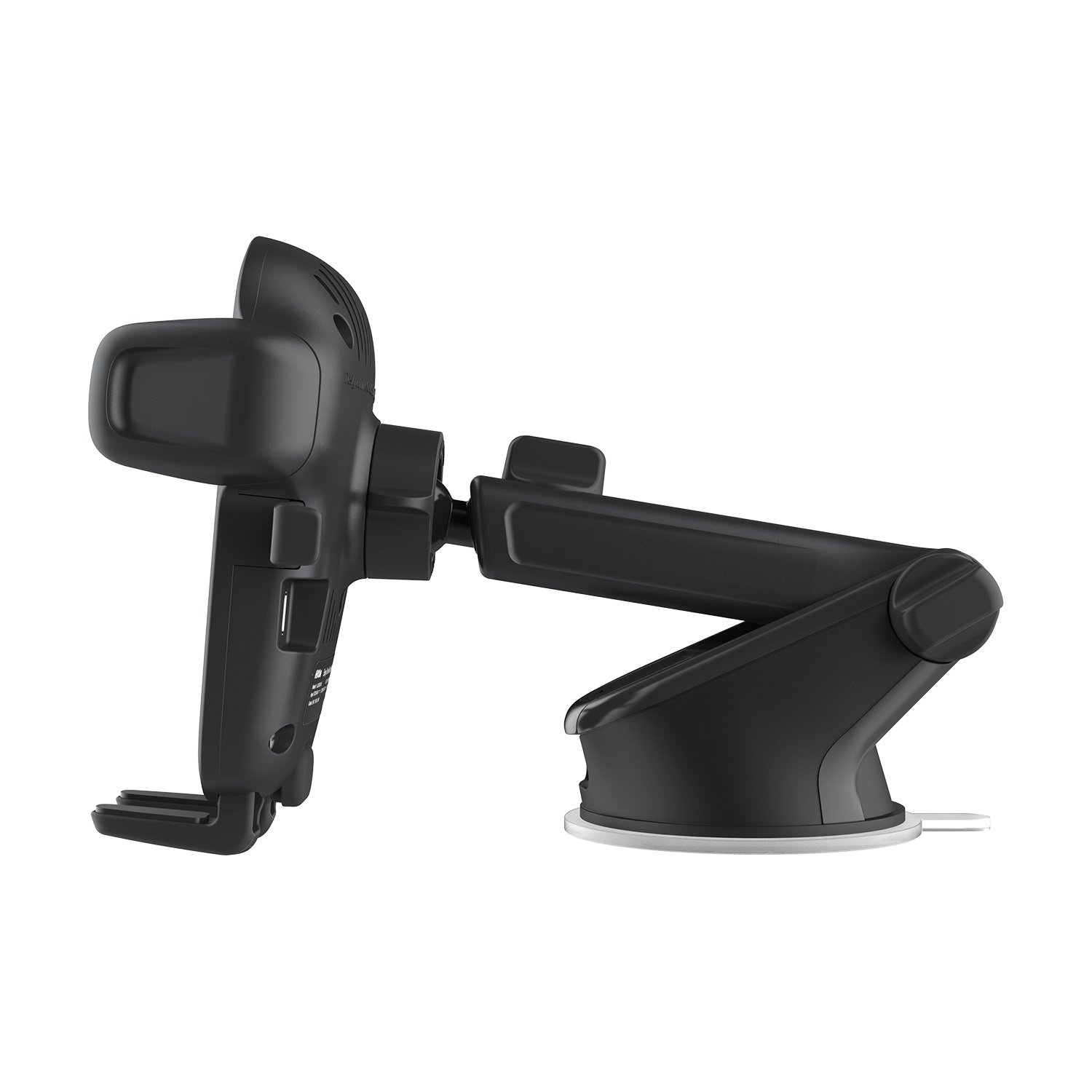 Sleek and compact design to match your handset
Designed to perfectly complement your Handset, the iOttie in-car phone mount is designed to reflect the contemporary and sleek styling of all recent smartphones, functional and attractive all in one device!
PLEASE NOTE: Not all handsets support wireless fast charging 'out of the box'. Certain smartphones will require an adapter to be able to perform wireless charging at all, please check your phone supports Qi wireless charging and wireless fast charging before purchasing. For more information please click the 'Wireless Charging Guide' above.
Détails supplémentaires
| | |
| --- | --- |
| Référence N° | HLCRIO142 |
| UPC | 0852306006527 |
| Réf. Mobile Fun | 65431 |
| Couleur | Noir |
| Brand Name | iOttie |
Livraisons & Retours
Envoi Économique par La Poste pour la France Métropolitaine: 2,99 euros
Livraison comprise entre 4 et 8 jours ouvrés (du lundi au vendredi, hors weekends et jours fériés)
Envoi Économique par La Poste pour la Belgique : 4,50 euros
Livraison comprise entre 4 et 8 jours ouvrés (du lundi au vendredi, hors weekends et jours fériés)
Envoi Suivi par La Poste pour la France Métropolitaine: 10,99 euros
Livraison comprise entre 3 et 4 jours ouvrés (du lundi au vendredi, hors weekends et jours fériés)
Envoi Express 24h minimum par DHL : 24,99 euros
Livraison sous

24-48h

(du lundi au vendredi, hors weekend et jours fériés)

Une commande validée le vendredi sera livrée à partir du lundi suivant

Envoi suivi, r

emis contre signature

Service de livraison le plus rapide,

chez vous en 24 heures minimum

pour un tarif attractif
Vous pouvez suivre votre colis sur le site DHL ou par téléphone au 08 25 10 00 80 (0,15€ TTC / min.) en vous munissant de votre numéro de bordereau communiqué par email.


Note:
Les heures d'arrivée estimées sont tirées directement des informations fournies par nos coursiers. Ce ne sont que des estimations, MobileFun n'est pas responsable si cela varie. Tous les produits sont expédiés depuis notre entrepôt au Royaume-Uni. Articles manquants ou retardés : Veuillez noter que nous devrons attendre 20 jours ouvrables avant de pouvoir retrouver, remplacer ou rembourser les articles perdus. Le service de courrier ne sera pas disponible pour les commandes de grande valeur, la méthode d'expédition express sera appliquée.
Livraison sans contact
Afin de livrer vos commandes en toute sécurité, plusieurs de nos partenaires ont mis en place un service minimal de livraison avec ou sans contact. Ce faisant, nos clients et nos partenaires de livraison sont protégés. Cliquez sur ici pour voir quels coursiers peuvent offrir la livraison sans contact.
Dois-je payer la TVA ou les droits d'importation?
Si votre commande est moins de 150 € hors frais de port, la TVA est déjà incluse dans le prix que vous payez à la caisse. Cela signifie qu'il n'y aura pas de TVA supplémentaire due pour le paiement lorsque votre commande vous sera livrée. Pour plus d'informations, veuillez consulter les informations d'expédition complètes.
Refus de payer les frais - Politique de retour
Si vous refusez de payer les droits d'importation ou la TVA prélevés sur votre envoi, cela peut entraîner le retour de l'envoi à Mobile Fun. Dans ce cas, tous les frais de retour associés plus des frais administratifs minimum de 5,00 £ (ou une devise équivalente au taux de change actuel) seront imputés au montant de votre remboursement final.