Auraglow Solar Powered LED Garden/indoor Natural Hemp Rope Light
This rustic style hemp rope is intertwined with 60 twinkling LED lights, to create a captivating & stylish decoration. You can easily wrap it around trees, benches, posts or gazebo areas; all it needs is some sun to power it & create a magical effect!
Key Features
Rope can fit perfectly around garden benches, trees, gazebos & more
Choose between flashing or static lighting
Charge all day, shine all night
Solar powered rechargeable battery
Descriptif du produit

If you are looking to add a sense of charm and warmth to your garden, without spending a fortune, then this rope light feature piece is ideal for you. The real hemp rope adds a rustic chic, while the warm twinkling LEDs create a delightful atmosphere. It could not be easier to create a relaxing ambience with this light. Powered by sustainable sunlight, there is no need for complex wiring or to constantly replace batteries. To install, you simply place the stake in direct daylight, place the rope around your desired feature, and then set it to your chosen mode. You can choose from flashing or static modes. Once you have decided, the light does the rest. It will automatically turn itself on at dusk and off again at dawn.
Rope can fit perfectly around garden benches, trees, gazebos & more
The stunning 4.5m rope, featuring 60 LED lights, can comfortably wrap around any tree, bench, gazebo, and more - you could even tie it over your fence!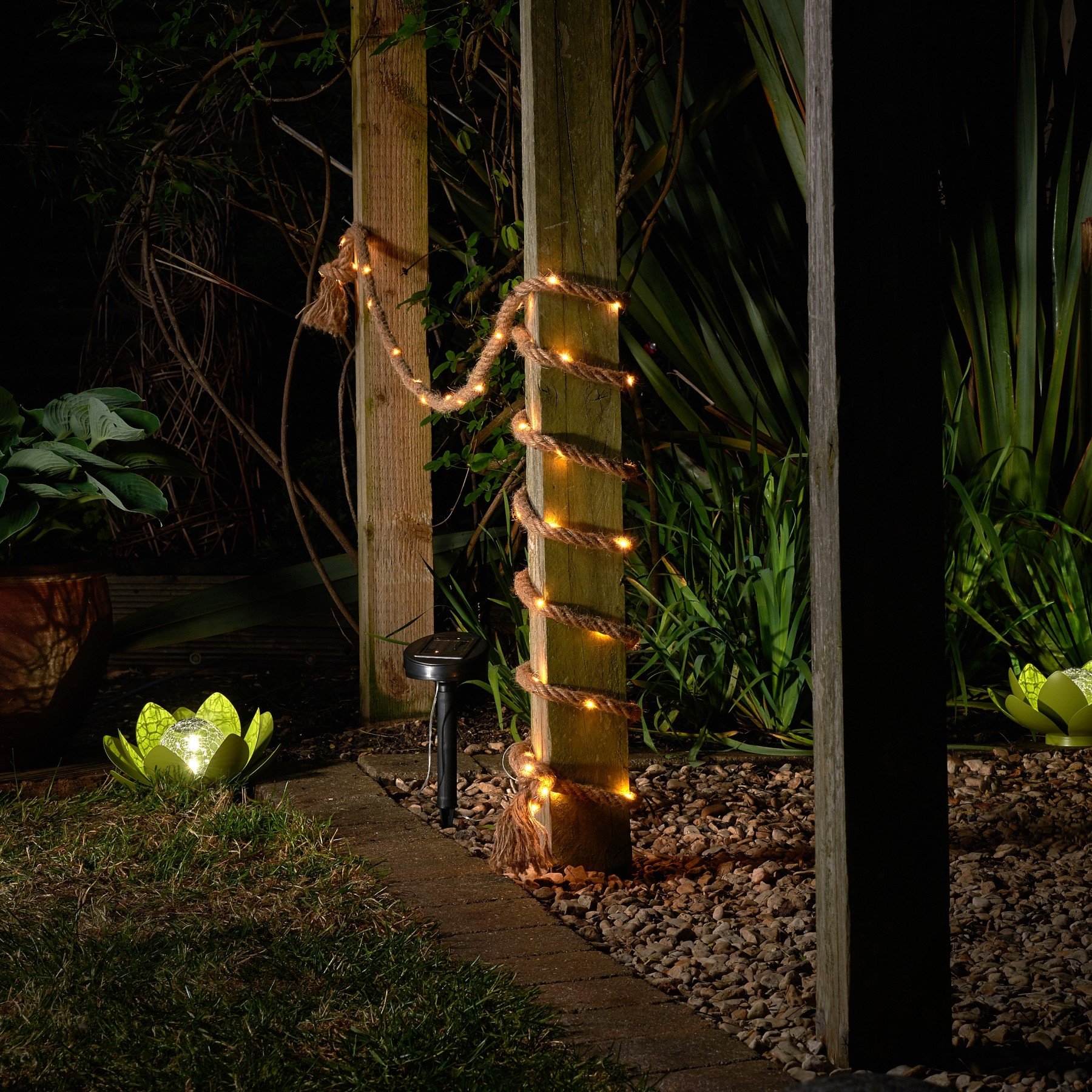 Choose between flashing or static lighting
This rope provides you with the choice to customize. The intelligent solar panel is mounted on the provided stake and can be removed/attached to the stake with a simple twist. Once attached, you can also change the light mode to either static light or flashing mode; you decide which suits the occasion more.
Solar-powered rechargeable battery
Don't worry about clumsy, ugly, awkward, and intrusive wiring around your property as this light is powered by nature's greatest energy source - our sun. Light and heat travel 93 million miles to be absorbed and converted into stored energy by the advanced solar panel technology onboard. You obviously don't need to use the light in the day and the 'dusk 'til dawn' sensor will ensure the rope won't activate in daylight anyway, so it's good news that this time is not wasted.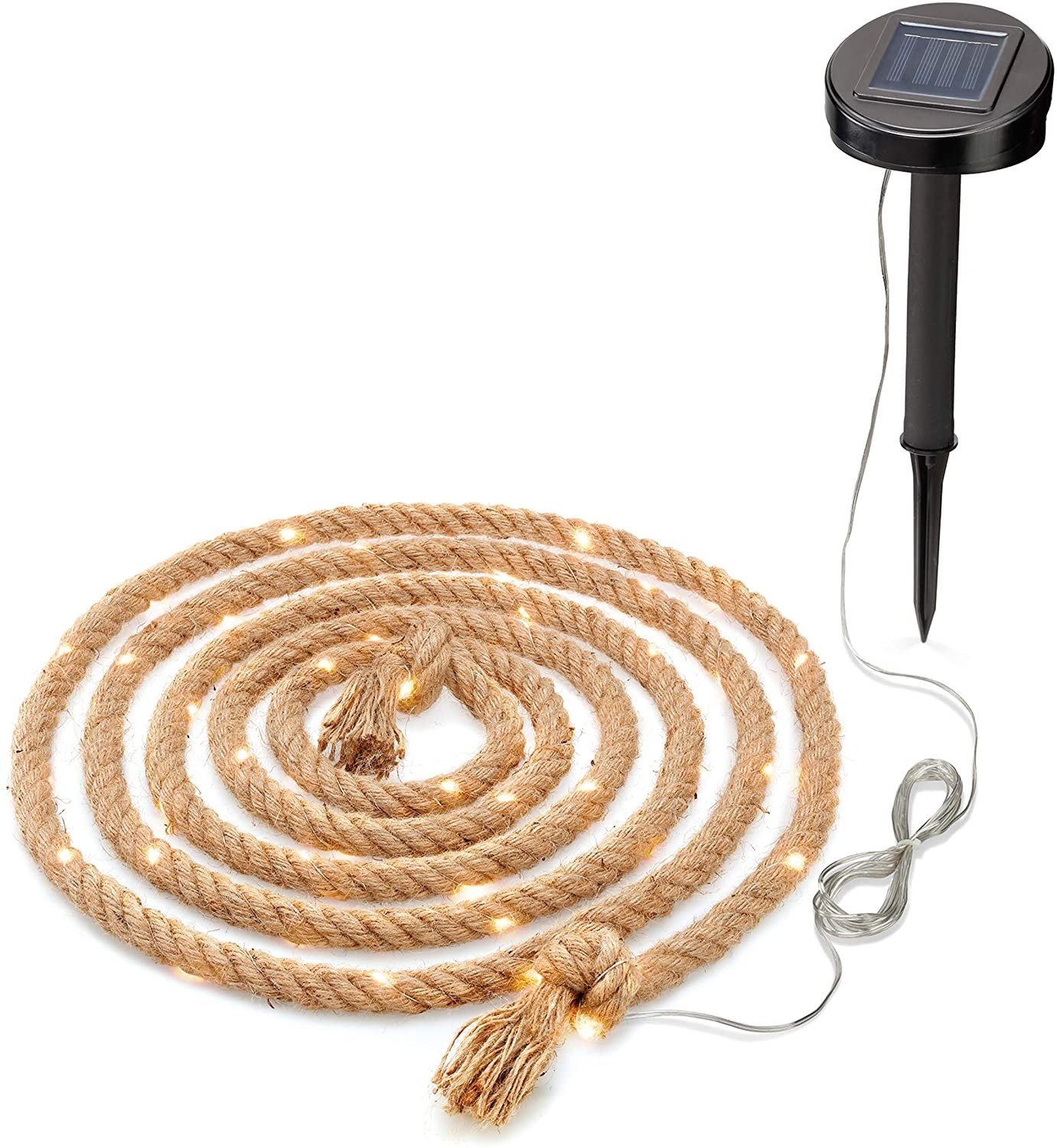 Charge all day, shine all night
The beauty of having solar-powered recharging is that it's not only very, very energy efficient and good for the environment, it also means you have a full battery charge to use every night and this charge can provide all the power needed - for up to 10 hours of operation per night.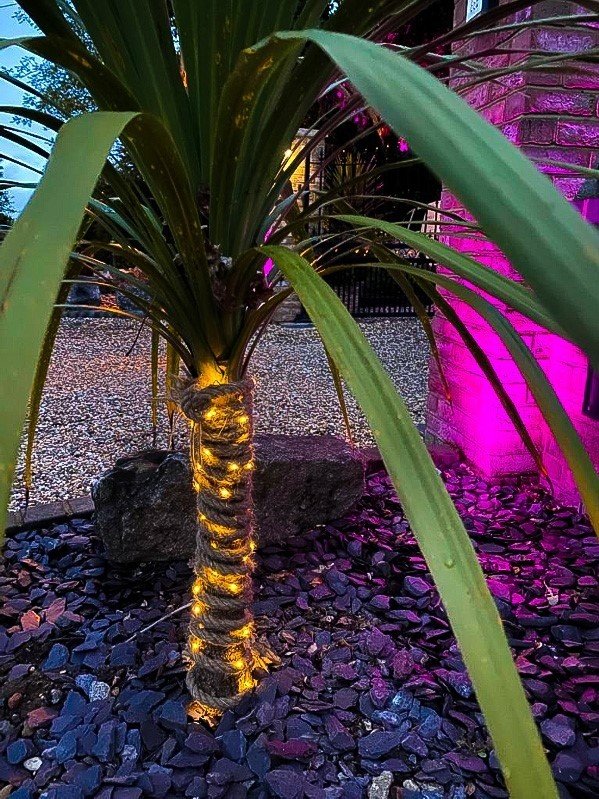 Ideal for outdoor use
This light is designed for outdoor use with very little or no maintenance. This also makes sense as it's solar-powered. There's nothing to stop you from using it indoors if you can guarantee a good amount of sunlight, but it is intended for outdoor use primarily. This means the weather will not affect it at all. With an IP65 rating, it has superior water resistance.
Completely wireless with no trailing cables
Outdoor Solar Powered LED Light with Dual Motion Activators totally reliant on its own internal 2,000mAh battery, so there's no need to find a spare mains socket or run an annoying extension cable to your preferred location.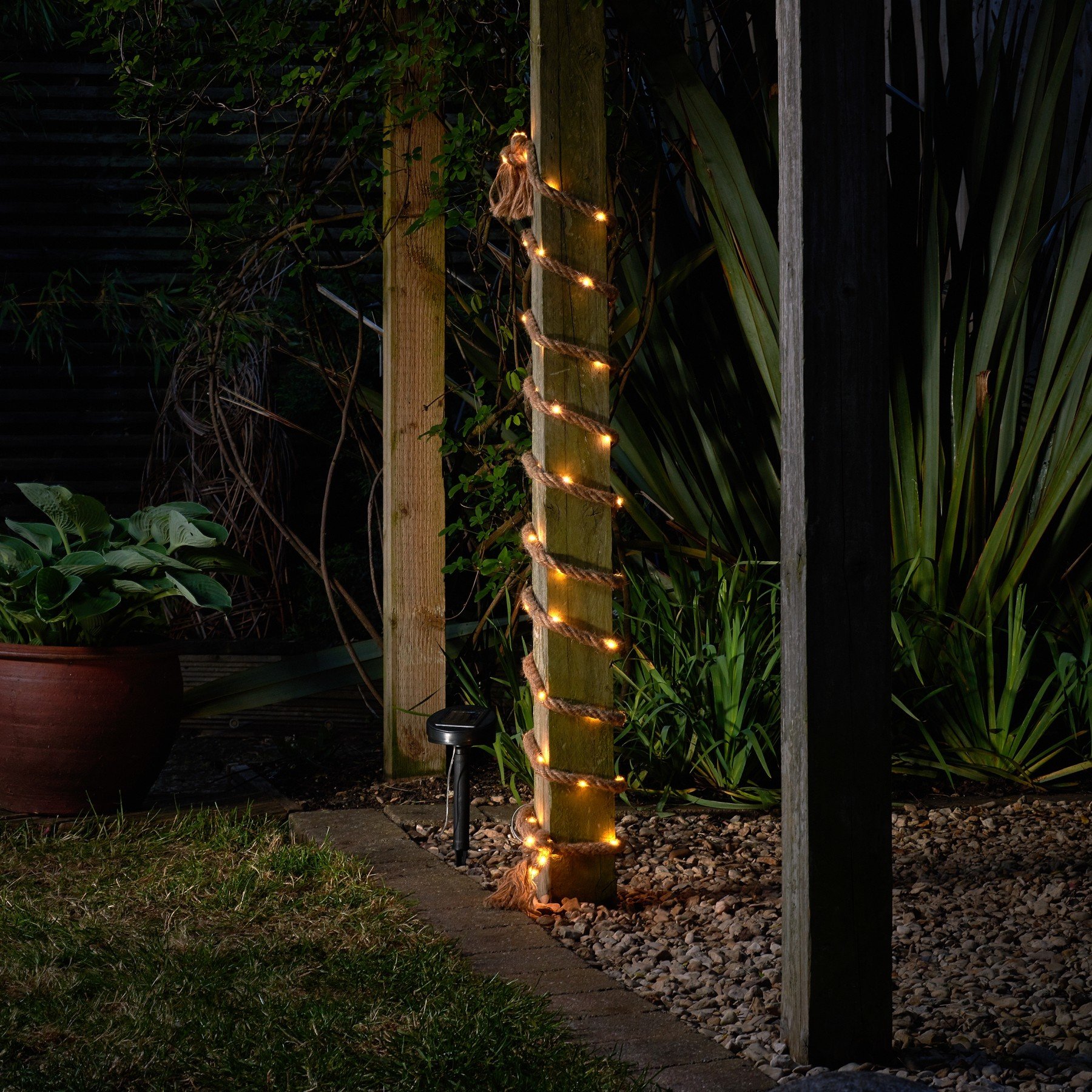 Technical Specification:
- Rope: 4.5m Full Cable, 6.5m Hemp Rope
- Solar Panel: 2V/80MA - 11 x 5 x 29cm Plastic Panel Casing
- Weatherproof Rating: IP44
- Lighting: 60 x Warm White LEDs
- Battery: 1.2V AA NiMH 500mAH
Détails supplémentaires
| | |
| --- | --- |
| Référence N° | AG624 |
| UPC | 5060539625087 |
| Réf. Mobile Fun | 86160 |
| Couleur | Multicolour |
| Brand Name | Auraglow |
Livraisons & Retours
Envoi Économique par La Poste pour la France Métropolitaine: 2,99 euros
Livraison comprise entre 4 et 8 jours ouvrés (du lundi au vendredi, hors weekends et jours fériés)
Envoi Économique par La Poste pour la Belgique : 4,50 euros
Livraison comprise entre 4 et 8 jours ouvrés (du lundi au vendredi, hors weekends et jours fériés)
Envoi Suivi par La Poste pour la France Métropolitaine: 10,99 euros
Livraison comprise entre 3 et 4 jours ouvrés (du lundi au vendredi, hors weekends et jours fériés)
Envoi Express 24h minimum par DHL : 24,99 euros
Livraison sous

24-48h

(du lundi au vendredi, hors weekend et jours fériés)

Une commande validée le vendredi sera livrée à partir du lundi suivant

Envoi suivi, r

emis contre signature

Service de livraison le plus rapide,

chez vous en 24 heures minimum

pour un tarif attractif
Vous pouvez suivre votre colis sur le site DHL ou par téléphone au 08 25 10 00 80 (0,15€ TTC / min.) en vous munissant de votre numéro de bordereau communiqué par email.


Note:
Les heures d'arrivée estimées sont tirées directement des informations fournies par nos coursiers. Ce ne sont que des estimations, MobileFun n'est pas responsable si cela varie. Tous les produits sont expédiés depuis notre entrepôt au Royaume-Uni. Articles manquants ou retardés : Veuillez noter que nous devrons attendre 20 jours ouvrables avant de pouvoir retrouver, remplacer ou rembourser les articles perdus. Le service de courrier ne sera pas disponible pour les commandes de grande valeur, la méthode d'expédition express sera appliquée.
Livraison sans contact
Afin de livrer vos commandes en toute sécurité, plusieurs de nos partenaires ont mis en place un service minimal de livraison avec ou sans contact. Ce faisant, nos clients et nos partenaires de livraison sont protégés. Cliquez sur ici pour voir quels coursiers peuvent offrir la livraison sans contact.
Dois-je payer la TVA ou les droits d'importation?
Si votre commande est moins de 150 € hors frais de port, la TVA est déjà incluse dans le prix que vous payez à la caisse. Cela signifie qu'il n'y aura pas de TVA supplémentaire due pour le paiement lorsque votre commande vous sera livrée. Pour plus d'informations, veuillez consulter les informations d'expédition complètes.
Refus de payer les frais - Politique de retour
Si vous refusez de payer les droits d'importation ou la TVA prélevés sur votre envoi, cela peut entraîner le retour de l'envoi à Mobile Fun. Dans ce cas, tous les frais de retour associés plus des frais administratifs minimum de 5,00 £ (ou une devise équivalente au taux de change actuel) seront imputés au montant de votre remboursement final.