Acefast TWS Wireless Clear Bluetooth Earphones with Digital Display
Get the most out of your music with the Acefast TWS Bluetooth Earbuds! Designed with AI call noise reduction, 3D LED digital display, a beautiful transparent design & an IPX4 waterproof rating. Enjoy great sound quality wire-free with Acefast.
Produits fréquemment achetés ensemble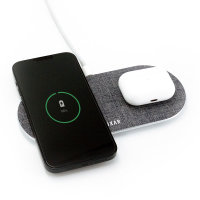 23,49€
Prix d'origine
34,99€
Key Features
Wireless charging compatible case
SVE AI call noise reduction & ENC noise reduction
Innovative 3D LED digital display
30 hours of playtime
IPX4 waterproof rating
Descriptif du produit


Wireless charging compatible case
As these Acefast earbuds are truly wireless you don't have to bother with cumbersome cables anymore. The charging case is equipped with a 480mAh battery, which you can charge by simply placing it on a wireless charger. The advantage of a TW pair of earbuds is that you don't have to stop using your earphones while the case is charging. A USB-C cable can be used to charge these as well if you prefer.
SVE AI call noise reduction: ENC noise reduction
Acefast used smart AI technology to give you unbeatable noise cancellation. The noise-cancelling AI learns the difference between the sound of a human voice and any sort of background noise that it may encounter. When the AI knows what sounds it needs to suppress, it then employs active noise-cancelling to eliminate that background noise, to provide you with the best user experience out there. This type of environmental noise cancellation coupled with traditional active noise cancellation makes these earbuds a must-have!
Innovative 3D LED digital display
The Acefast earphones were designed with the end consumer in mind. They have a smart LED digital display at the front of the charging case that accurately displays the charging levels of the left/right earphones & case for your convenience, so you always know if you need to set them on charge.
30 hours of playtime
These earphones pack a punch! They can be used for up to 30 hours (when used in conjunction with the case), or 7 hours by themselves without using the charging case. The earphones support fast charging technology, with just a ten-minute charge you can listen to music for two hours.
IPX4 waterproof rating
Equipped with an IPX4 waterproof rating, these earphones can withstand splashes of water, so feel free to wear these on rainy days without being scared of running them.
Technical Specifications:
Product name: Acefast T8 Crystal TWS headset
Bluetooth version/chip: v5.3+EDR / BES2600IHC
Audio decoding protocol: SBC/AAC
Speaker type: Coaxial double-moving coil
Speaker size: 10mm + 6mm
Diaphragm material: Aluminum-magnesium alloy (10mm), titanium dome (6mm)
Frequency response: 20Hz~20kHz
Transmission distance: ≥10m
Headset battery: 45mAh
Headset working time: 7 hours (music mode). 4 hours (calls mode)
Charging case battery: 480mAh
Total working time: 30 hours
Headset charging time: 1 hour
Charging case charging time: 1.5 hour
Charging case input: USB-C, DC5V / 0.45A
Headset weight: 11g
Total weight: 47g
Waterproof rating: IPX4
Certification: CE, RoHS, FCC ID, IC ID, TELEC, BQB, SRRC, EAC, UL62368 test report, quality inspection report, UN38.3, MSDS air and sea freight appraisal certificate.
Contenu
1 X Acefast Earphones
1 X Silicone case
1 X Silicone lanyard
1 X User manual
1 X Exquisite colour brochure
1 X Ear caps storage box
1 X USB-C charging cable
1 x pair of SS / S / M / L ear caps
Détails supplémentaires
| | |
| --- | --- |
| Référence N° | 6974316282228 |
| UPC | 6974316282228 |
| Réf. Mobile Fun | 96281 |
| Couleur | Transparent |
| Brand Name | Acefast |
Videos
Livraisons & Retours
Envoi Économique par La Poste pour la France Métropolitaine: 2,99 euros
Livraison comprise entre 4 et 8 jours ouvrés (du lundi au vendredi, hors weekends et jours fériés)
Envoi Économique par La Poste pour la Belgique : 4,50 euros
Livraison comprise entre 4 et 8 jours ouvrés (du lundi au vendredi, hors weekends et jours fériés)
Envoi Suivi par La Poste pour la France Métropolitaine: 10,99 euros
Livraison comprise entre 3 et 4 jours ouvrés (du lundi au vendredi, hors weekends et jours fériés)
Envoi Express 24h minimum par DHL : 24,99 euros
Livraison sous

24-48h

(du lundi au vendredi, hors weekend et jours fériés)

Une commande validée le vendredi sera livrée à partir du lundi suivant

Envoi suivi, r

emis contre signature

Service de livraison le plus rapide,

chez vous en 24 heures minimum

pour un tarif attractif
Vous pouvez suivre votre colis sur le site DHL ou par téléphone au 08 25 10 00 80 (0,15€ TTC / min.) en vous munissant de votre numéro de bordereau communiqué par email.


Note:
Les heures d'arrivée estimées sont tirées directement des informations fournies par nos coursiers. Ce ne sont que des estimations, MobileFun n'est pas responsable si cela varie. Tous les produits sont expédiés depuis notre entrepôt au Royaume-Uni. Articles manquants ou retardés : Veuillez noter que nous devrons attendre 20 jours ouvrables avant de pouvoir retrouver, remplacer ou rembourser les articles perdus. Le service de courrier ne sera pas disponible pour les commandes de grande valeur, la méthode d'expédition express sera appliquée.
Livraison sans contact
Afin de livrer vos commandes en toute sécurité, plusieurs de nos partenaires ont mis en place un service minimal de livraison avec ou sans contact. Ce faisant, nos clients et nos partenaires de livraison sont protégés. Cliquez sur ici pour voir quels coursiers peuvent offrir la livraison sans contact.
Dois-je payer la TVA ou les droits d'importation?
Si votre commande est moins de 150 € hors frais de port, la TVA est déjà incluse dans le prix que vous payez à la caisse. Cela signifie qu'il n'y aura pas de TVA supplémentaire due pour le paiement lorsque votre commande vous sera livrée. Pour plus d'informations, veuillez consulter les informations d'expédition complètes.
Refus de payer les frais - Politique de retour
Si vous refusez de payer les droits d'importation ou la TVA prélevés sur votre envoi, cela peut entraîner le retour de l'envoi à Mobile Fun. Dans ce cas, tous les frais de retour associés plus des frais administratifs minimum de 5,00 £ (ou une devise équivalente au taux de change actuel) seront imputés au montant de votre remboursement final.