4smarts ErgoFix H6 Adjustable Floor Stand For Phone & Tablets - White
This premium quality floor stand from 4smarts gives you the freedom to choose. Use to watch movies, read recipes whilst cooking or even at a hotel to check in!. Place any device between 4.7-15.6" into the clamps, adjust to your chosen height, angle & tilt
Key Features
High-quality design
Sleek, professional design
Full freedom of movement
Keep your device stable
Fits devices between 4.7 - 15.6 inches
Brilliant for watching media, working and more
Descriptif du produit
The ultimate, high quality, premium portable smartphone and tablet stand. This fully adjustable stand from 4smarts is ideal for many different applications including retail spaces, offices, events or restaurants. The simple yet elegant stand is highly portable and therefore can easily be transported to different locations. Choose where to use the stand, at one height, at what tilt and at what angle with this fully adjustable mount from 4smarts. Once you've chosen the perfect angle, the highly sturdy, durable stand will keep your smartphone or tablet locked in place - allowing you to cook, play music or watch a movie without worrying about the screen changing position.
High-quality design
The noble aluminium alloy with its satin finish gives the stand a high-quality and elegant appearance. The silicone retaining clips prevent damage to your device. The mount is made of one piece, and therefore is extremely stable and robust.
The highly durable frame will keep your device completely safe and secure, allowing you to feel secure that when customers use the iPad to check in, it will not fall out! Nor will it move from its position whilst you cook.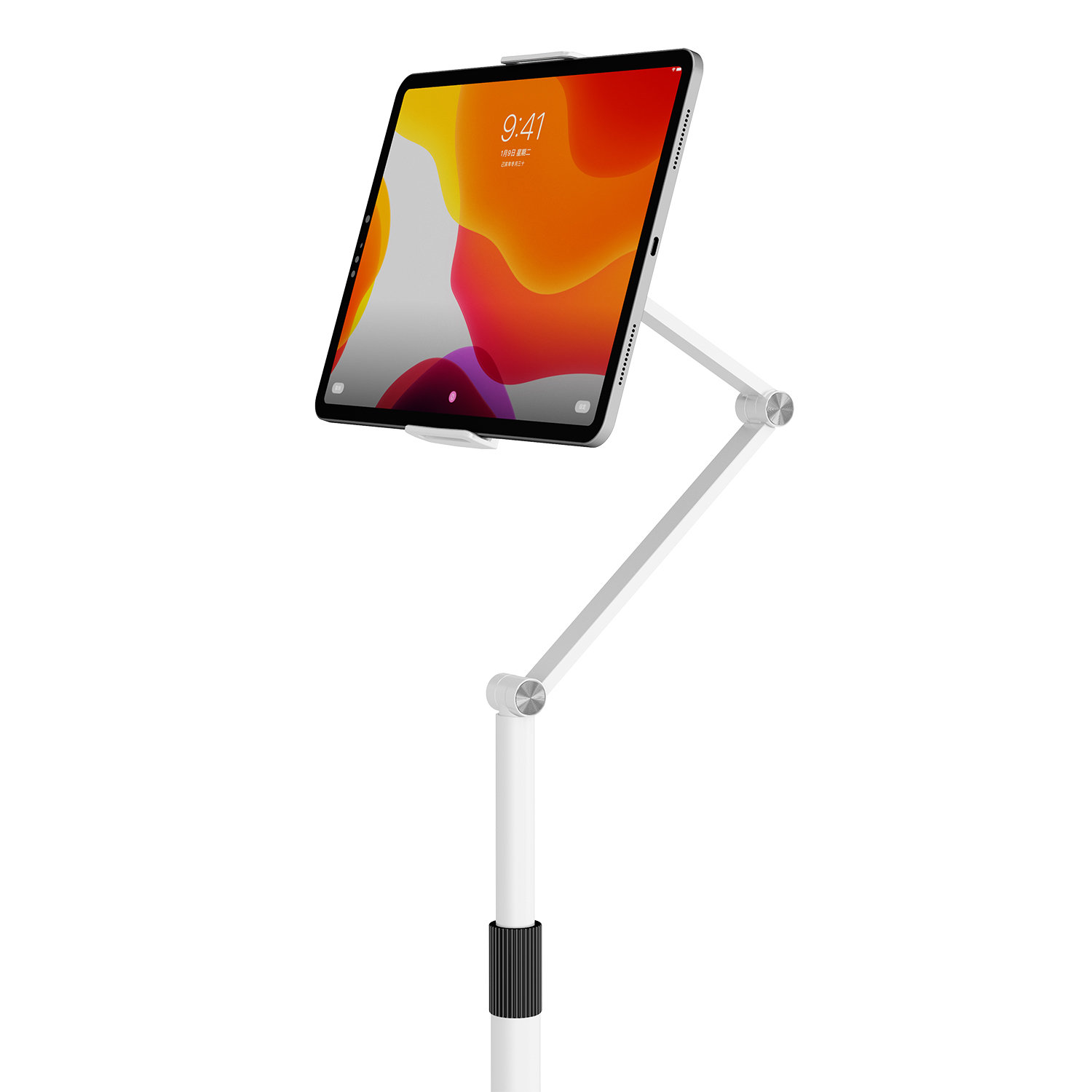 Full freedom of movement
Design your workspace the way you want. Set the most comfortable tilt angle and work in the most comfortable position. The height of the ErgoFix is individually adjustable and the arm as well as the holder can be rotated 360°. This means you can turn the stand to whatever angle you want.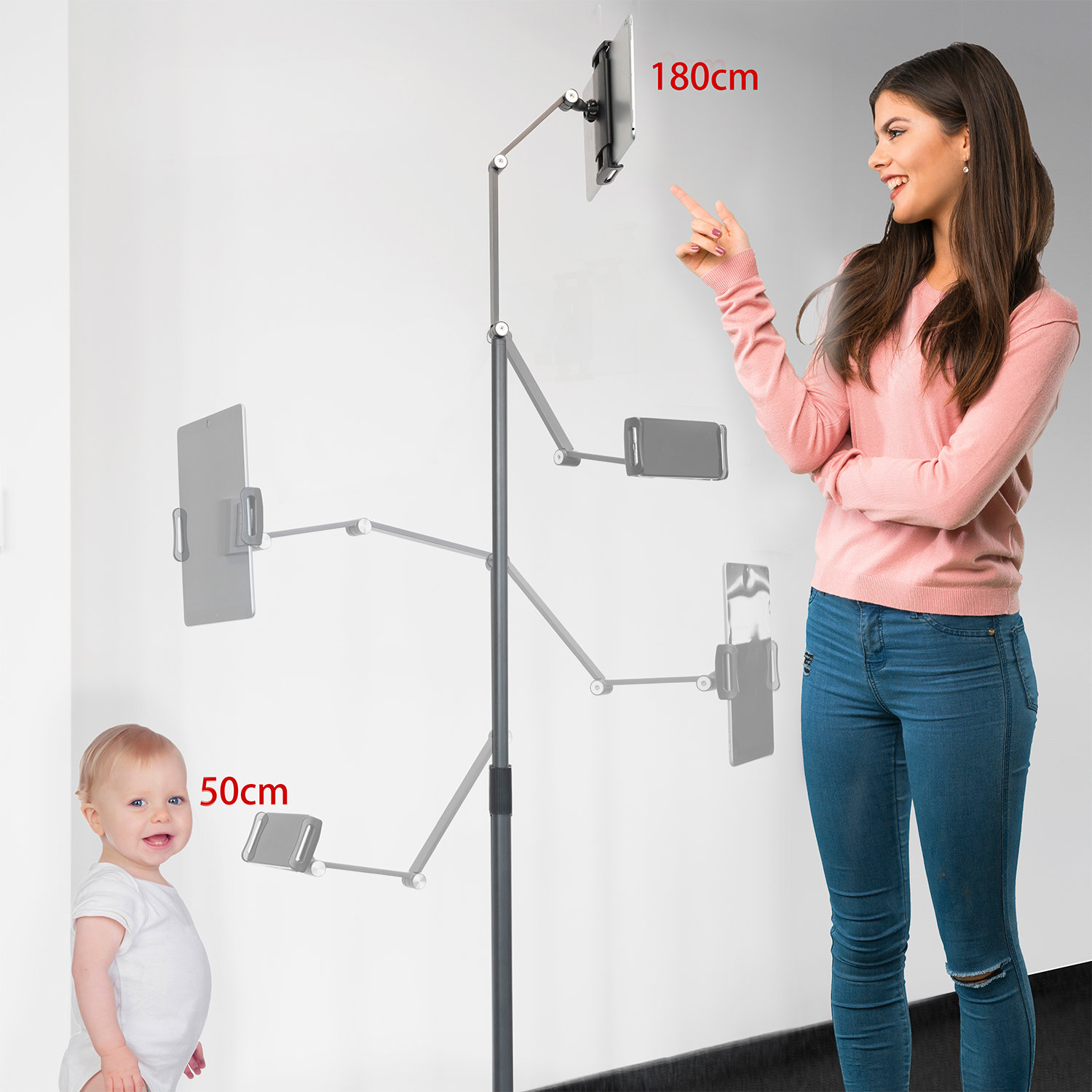 Keep your device stable
Due to the sturdy material this stand has been made from, it keeps your device completely safe and secure. The installation is extremely easy, with no need to drill into anywhere or damaging your case. It simply clamps around your device, keeping it safe at your chosen angle and height.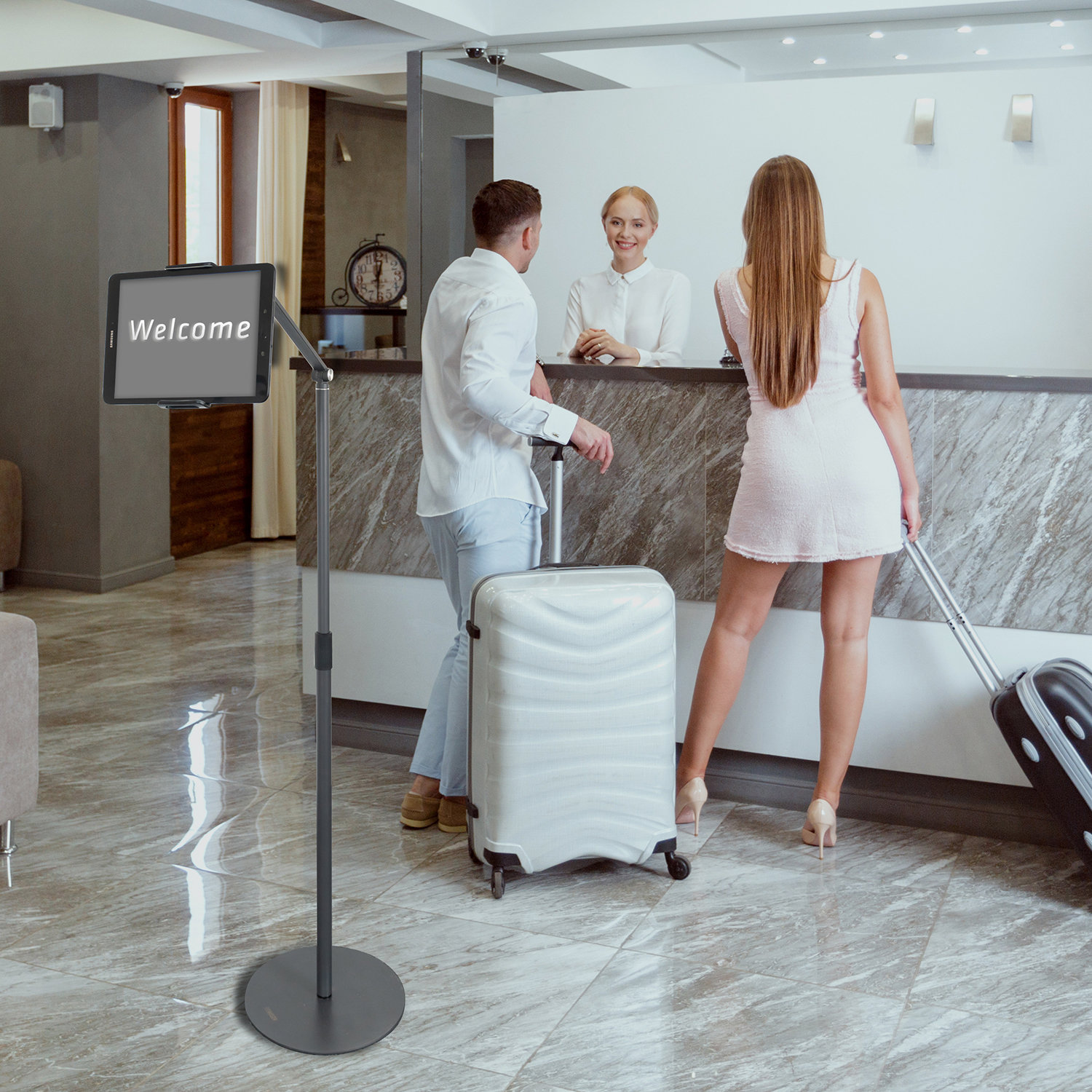 Fits devices between 4.7 - 15.6 inches
This stand fits any devices between 4.7 to 15.6 inches. This includes all mobile devices including Apple & Android phones, iPads, tablets & more. All of these will easily fit into the stand, even when the device has a case on it due to the adjustable clamps.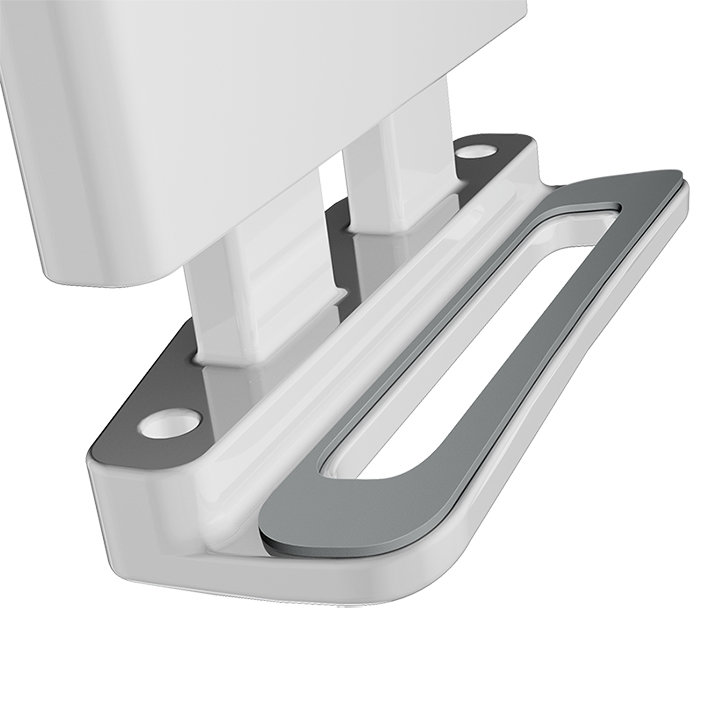 Brilliant for watching media, working and more
Your ErgoFix can be used in many situations. The stand is perfect for watching movies, reading e-books, following recipes, surfing the web, conducting presentations, viewing photos or anything else you can think of. After a simple adjustment, you can alter the angle of how your tablet is held so it is more comfortable for typing. You can even consider it as the perfect easel for artwork. Perfect for using at home, in the office or on public transport. It's a high professional grade product that is affordable and great value for money.
Not only can you use it for personal uses, but it can also be used in a hotel or at a workplace to keep your iPad in the perfect position for those checking in - this is a great feature in the current climate, as it minimises face to face contact and allows all checking in and out to be done virtually.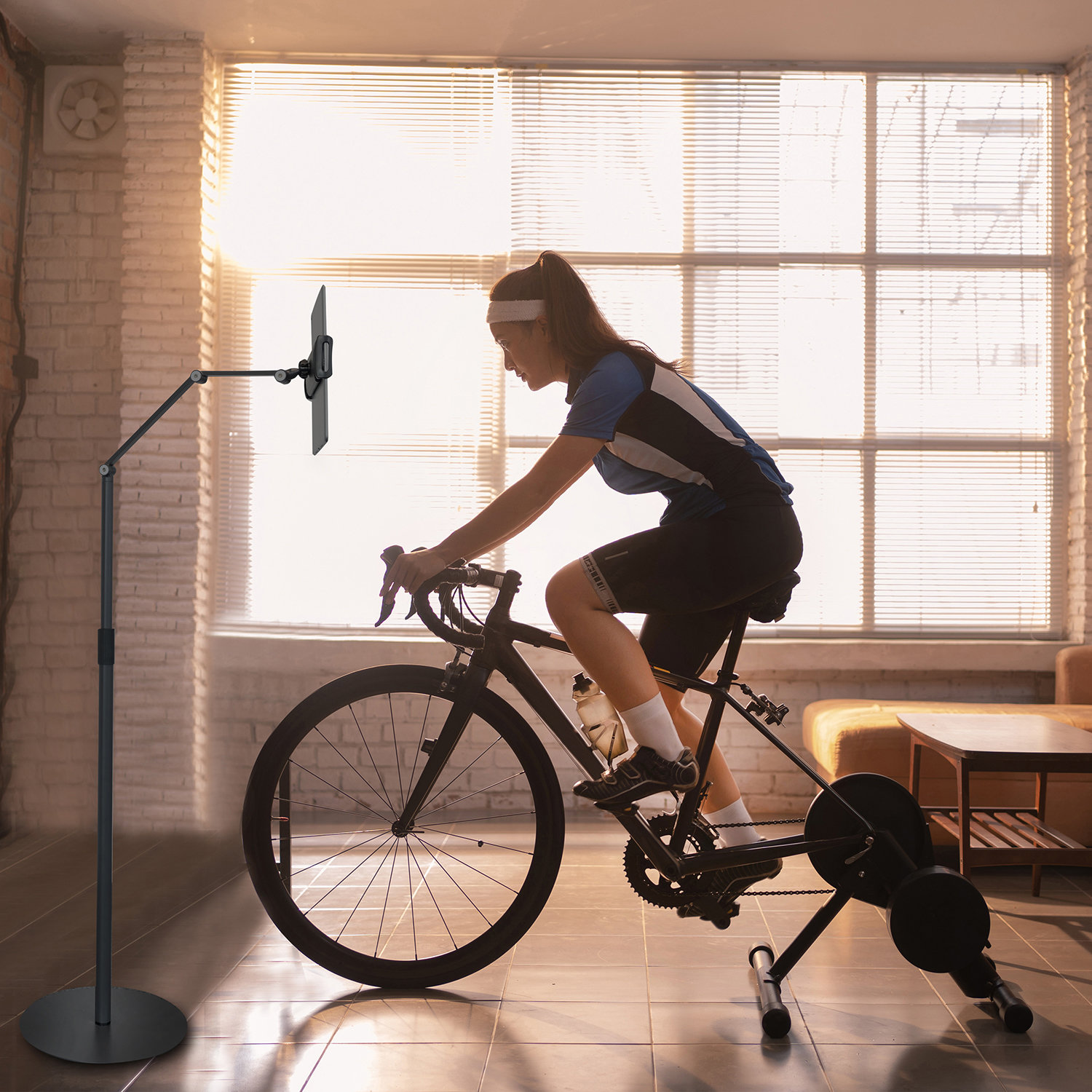 Technical Specifications:
Material: Aluminum alloy + Silicone
Product height: 63-168cm
Base diameter: 30cm
Phone/pad size: 4.7-15.6 inch
Pivot: 360°
Swivel: 180°
Tilt: 120°
Clamp size: 125-255mm
Weight: 4450g
Détails supplémentaires
| | |
| --- | --- |
| Référence N° | 4S469308 |
| UPC | 4250774955129 |
| Réf. Mobile Fun | 84813 |
| Couleur | Blanc |
Livraisons & Retours
Envoi Économique par La Poste pour la France Métropolitaine: 2,99 euros
Livraison comprise entre 4 et 8 jours ouvrés (du lundi au vendredi, hors weekends et jours fériés)
Envoi Économique par La Poste pour la Belgique : 4,50 euros
Livraison comprise entre 4 et 8 jours ouvrés (du lundi au vendredi, hors weekends et jours fériés)
Envoi Suivi par La Poste pour la France Métropolitaine: 10,99 euros
Livraison comprise entre 3 et 4 jours ouvrés (du lundi au vendredi, hors weekends et jours fériés)
Envoi Express 24h minimum par DHL : 19,99 euros
Livraison sous

24-48h

(du lundi au vendredi, hors weekend et jours fériés)

Une commande validée le vendredi sera livrée à partir du lundi suivant

Envoi suivi, r

emis contre signature

Service de livraison le plus rapide,

chez vous en 24 heures minimum

pour un tarif attractif
Vous pouvez suivre votre colis sur le site DHL ou par téléphone au 08 25 10 00 80 (0,15€ TTC / min.) en vous munissant de votre numéro de bordereau communiqué par email.
Livraison sans contact
Afin de livrer vos commandes en toute sécurité, plusieurs de nos partenaires ont mis en place un service minimal de livraison avec ou sans contact. Ce faisant, nos clients et nos partenaires de livraison sont protégés. Cliquez sur ici pour voir quels coursiers peuvent offrir la livraison sans contact.
Dois-je payer la TVA ou les droits d'importation?
Si votre commande est moins de 150 € hors frais de port, la TVA est déjà incluse dans le prix que vous payez à la caisse. Cela signifie qu'il n'y aura pas de TVA supplémentaire due pour le paiement lorsque votre commande vous sera livrée. Pour plus d'informations, veuillez consulter les informations d'expédition complètes.
Refus de payer les frais - Politique de retour
Si vous refusez de payer les droits d'importation ou la TVA prélevés sur votre envoi, cela peut entraîner le retour de l'envoi à Mobile Fun. Dans ce cas, tous les frais de retour associés plus des frais administratifs minimum de 5,00 £ (ou une devise équivalente au taux de change actuel) seront imputés au montant de votre remboursement final.